We all have our preferences in mobile network. Some of us have been using our mobile network for maybe 5-6 years or even more now. This preference makes us ignore the problems that we continuously face with the network like poor quality voice calling or low data speed.
This is when number porting (MNP) helps.
You can simply continue using your current number and move to a better network.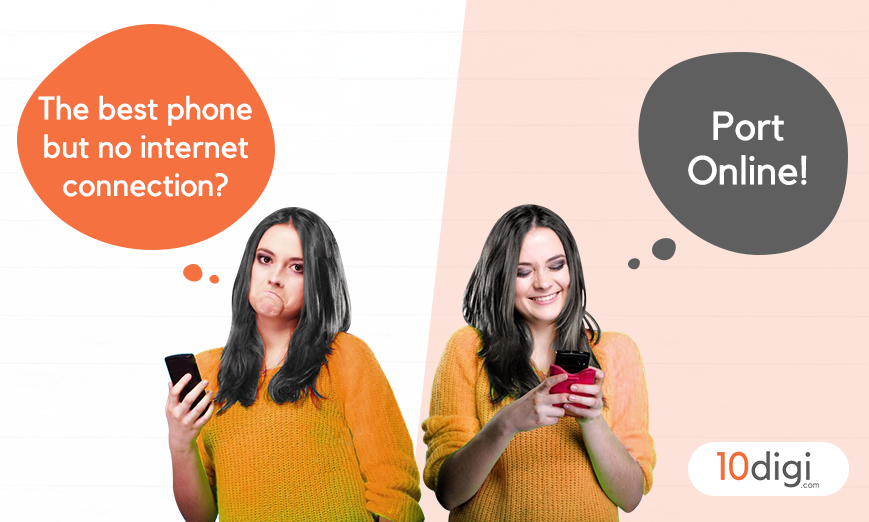 Continue reading this blog to know how you can port from Vodafone to Airtel at your home with free home delivery.
Here is how you can know everything about porting your number in just a few clicks.
How do you know which is the best network?
The key indicator to find which network is the best for you is to judge its performance in the location where you actually wish to use it. The performance of networks varies with a change in the location in which they are used. This means a particular connection might work better in one location as compared to other locations.
You can also check your network performance on the 10digi app. It gives you information on your network's voice calling quality and data speed in your location.
So, if your mobile network is not performing really well in your location, you can simply use mobile number portability and move to a different network which may give you better voice calling quality and higher data speed on your mobile network.
If you are willing to port from Vodafone to Airtel, here is exactly what you have to do to get your SIM delivered home in just 60 minutes without paying any delivery charges.
Have a look:
Step 1: Generate Porting Code
To port from Vodafone to Airtel, start the process by generating a porting code. Send the below SMS from your current mobile number to 1900.
SMS: PORT<space><current mobile number>.
Ex. PORT 987654321
Once you send this SMS, you will get back a porting code in SMS. Keep the porting code safe with you. This code will expire in 4 days, so place your porting request online before the code gets expired.
Here is how you will get your porting code:
Step 2: Choose from Port Online and Store Porting
You can either choose to port your number online from 10digi.com or get it ported at any physical store. Although the porting process in both cases is the same but porting online facilitates you in many ways. You get free delivery at your doorstep, transparent costing which means no hidden charges, you can avoid the traffic, parking and the most important thing: getting out of that comfortable sofa.
To get it from a store, you can locate the store of desired connection near you.
To get it online, simply log on to www.10digi.com.
Step 3: Select the Connection Type
Once you have generated your porting code and selected online SIM porting, log on to 10digi.com and choose if you wish to port mobile number to postpaid/prepaid connection. Then choose Airtel as your operator. At 10digi.com, you can conveniently choose your connection type and the operator that you wish to port to sitting at home. It lets you port to Vodafone, port to Airtel or port to Jio, Idea and even BSNL. You can choose if you need an Airtel prepaid connection or Airtel Postpaid connection.
Step 4: Choose Your Plan
Next step in the porting process is to choose a plan for your new prepaid or postpaid connection. You can choose from various first recharge options available for Airtel prepaid connection or postpaid plans for your Airtel postpaid connection, according to your usage. For prepaid connection: first recharge is different from the monthly recharges. In order to activate your number, your first recharge should be chosen from the FRC plans.
After the first recharge, you can choose a plan of your choice for the next month for both prepaid and postpaid.
Step 5: Fill In The Delivery Details
Fill in your details of delivery location and choose a delivery time slot. That's all! Confirm your order and relax. The executive will reach your location at your chosen date and time.
Get exclusive customer support throughout the process and even after your SIM delivery. Enjoy quick delivery and instant activation of your SIM in just a few clicks at 10digi.com.
Easily port number online or buy a new connection with 10digi.com.
To get more information, log on to the website. You can also write to us at [email protected] or call our customer care helpline: +91 9999-33-00-22.