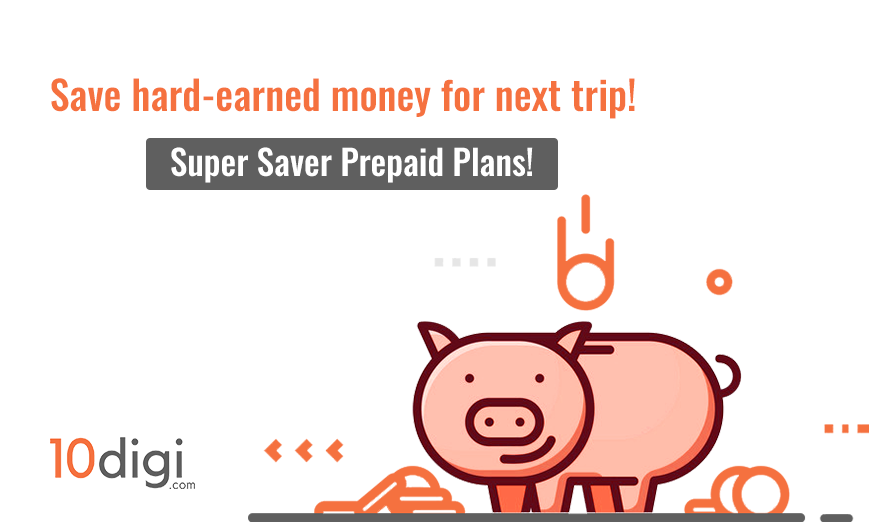 Airtel is surely one of the most loved telecom company in India. But ever wondered why we love Airtel, especially Airtel prepaid connection the most? Well there are a lot of things that Airtel Prepaid offers us. Make the most use of your Airtel prepaid benefits by knowing what you get from your Airtel prepaid connection.
This blog gives you an extensive list of the benefits that you get when you buy your Airtel prepaid SIM online from 10digi.com.
When you buy your Airtel prepaid connection, you don't just get your plan benefits of unlimited calls and everyday data bonus. But there is a lot that Airtel prepaid connection brings for you. Here is how you benefit with new Airtel prepaid connection: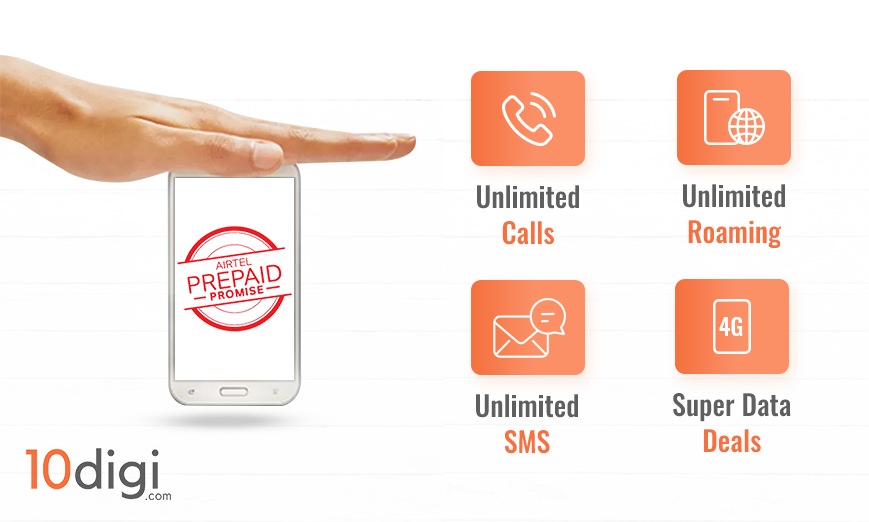 1. Value for money
Although, postpaid plans have become cheaper but Airtel prepaid plans promises value for the money that you spend for your plan. With maximum validity, Airtel prepaid plans offers best data speed and call connectivity. Airtel has won many hearts in the nation with its top quality services and plans especially made to sink with all types of users. You can choose from a wide list of prepaid plans and get a plan that has the benefits that are actually useful for you.
2. India's first open network
Talking about quality, Airtel moves one step ahead by bringing transparency in the services. With Airtel's open network, you can check tower location and network strength of your area. Also, it allows you to place a request in case you are facing problems with network or don't have a tower near your location. It aims to create a better network community for Airtel users to give them best mobile network experience.
As CEO of Bharti Airtel, Mr. Gopal Vittal stated:
"Open Network is a paradigm shift in the way we engage with our customers. With this initiative, we are establishing complete transparency with regards to our mobile network and opening ourselves to customer scrutiny and feedback. For us, the network experience is paramount and Airtel customers can now take charge of network issues and be a part of the solution, rather than waiting for it to happen."
3. Good 4G speed
Airtel is amongst the best operators to provide 4G connection wherever you go. You can rely on Airtel for your urgent data requirements. Upgrade your mobile connection to Airtel prepaid 4G and enjoy high data speed and amazing internet connectivity. Choose your Airtel prepaid plan according to your data usage. You get daily data benefits with Airtel prepaid offers. Shop smart and get value prepaid plans for maximum validity with your new Airtel Prepaid SIM.
4. Airtel Money
Get access to India's first payments bank. It makes your financial transaction a lot easy when you use Airtel Payments Bank. You can just add your savings bank account or wallet to your payments bank and enjoy quick transactions. Recharging your Airtel prepaid connection or other utility bills can be done in just a few minutes. Also, it lets you send/ receive money instantly. You can also plan for a secure future with Airtel Payments Bank financial and insurance schemes.
Moreover, you can also avail special offers on your shopping, bus tickets etc.
Aren't these features just what you need to make your life easier and better!
To get your Airtel Prepaid Connection or to port to Airtel prepaid, all you need to do is to follow these easy steps:
A. Log on to the website: www.10digi.com
B. Select prepaid and then choose Airtel as your operator.
C. Choose a first recharge plan (First recharge plans are different from normal recharge. As per telecom rules, you need to get FRC done for 1st time in order to activate your number.)
D. Fill in your delivery details and choose a delivery slot for free delivery.
E. Place your order and relex.
The SIM will be delivered to your location in just 60 minutes or a time of your preference. At 10digi.com, you are only charged for the plan that you choose. There are no hidden or extra charges. Also, you get to avail exclusive customer support before and after the delivery of SIM.
To know more, you can write to us at [email protected] or call on our helpline: +91 9999-33-00-22