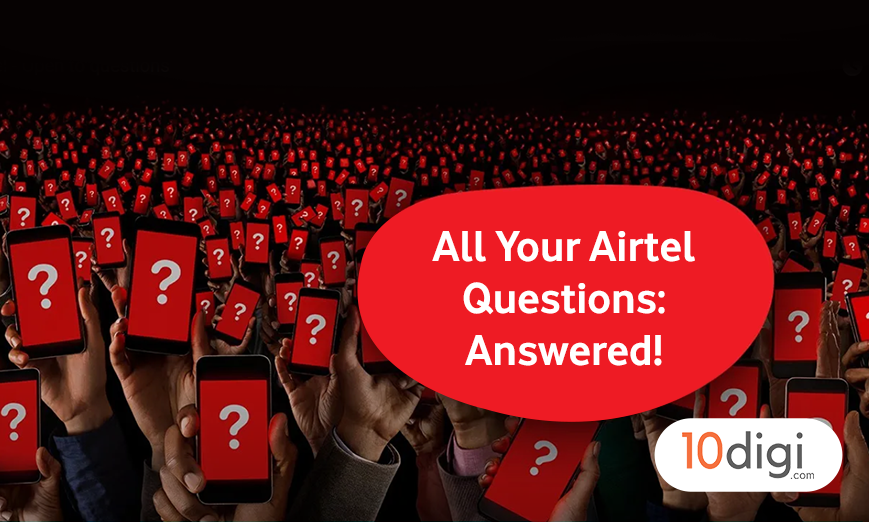 Hello!
Welcome to Information Page for Airtel.
Get all your questions related to Airtel connection answered here.
About Airtel:
Bharti Airtel Limited, also known as Airtel, is a Delhi based Indian global telecommunications services company. Airtel is currently operating in 18 countries across South Asia and Africa, and also in the Channel Islands.
The services provided by Airtel includes GSM, 3G, 4G LTE, 4G+ mobile services, fixed line broadband and voice services depending upon the country of operation. Airtel's VoLTE technology is also a success across various circles in India.
Having more than 423 million subscribers, Airtel is amongst the largest telecom operators in India and second largest mobile network operator in the world.
If you own an Airtel connection or plan to do so, 10digi.com will be happy to help you. We are authorised partner of the brand and can help you get the SIM delivered in no time.
Refer to this blog in case you need any kind of assistance with you Airtel Prepaid connection, Airtel Postpaid Connection or to port to Airtel.
Queries Related to Airtel Postpaid Connection
Q. 1 I need a new Airtel Postpaid connection, where can I buy?
To get a new Airtel postpaid connection delivered home in just 2 hours, all you need to do is:
Step 1: Log on to 10digi.com or click here <postpaid page link>.
Step 2: Select the postpaid tab and choose the operator you wish for your new postpaid connection.
Step 3: Choose a plan of your selected operator.
Step 4: Fill in the delivery details and place order.
That's it. The SIM will be delivered at your doorstep in just 2 hours.
Post delivery, your number will be activated after the tele-verification and physical verification of your Airtel postpaid connection is completed.
It takes about 72 hours to activate your new airtel postpaid connection.
To tele-verify your Airtel postpaid connection after delivery, simply dial 59059. Knowing the details of activation is always helpful in case facing troubles.
You can also buy your airtel postpaid connection from a nearby Airtel store.
Q.2 What happens after I place a postpaid order, how are my details validated?
Once your Airtel postpaid connection is delivered, you need to go through two types of verification as per TRAI mandates.
Address Verification: This is to verify that the address that you have filled in for your postpaid connection is true. One of the Airtel agents will visit your location and verify the same.
Tele Verification: It is a simple process to tele-verify your number. You just have to dial 59059 from your Airtel Postpaid new connection to get your number activated.
More about activation process is available here: Activation process
Q3. How do I pay my bills for Airtel postpaid connection?
Airtel postpaid bill payment is super easy when you do it online. There are multiple payment options for you to choose from.
1. Airtel website:You can pay your airtel postpaid directly on airtel website. Click here.
2. Airtel Thanks App
3. PayTM/ Google Pay and other wallets.
Q4. How can I check my current bill/ plan?
Option 1:
The best way to check your current Airtel postpaid plan and to know about all other trending plans is to use your Airtel Thanks App.
My Account >> Plan >> View Plan.
It gives you the right information on which airtel postpaid plan is active currently and also tells you about the added benefits that you are getting with your chosen plan.
Option 2:
Simply login at airtel.in and go to Plan & Services >> View Plan to view your current bill plan benefits.
Q5. I want to change my current plan, what do I do?
To change your current Airtel Postpaid plan to any better plan available, just choose any of the two available options:
Option 1:
Simply login at airtel.in and go to Plan & Services >> Update Rental to change your bill plan.
Option 2:
You may also download My Airtel App and change your bill plan by going to My Account >> Plan >> View Plan >> Change Plan.
Q6. I have issues in my postpaid bill, who can help?
There may be instances where you would need more clarity on your Airtel bill. Airtel is quite transparent about its billing and charges. To get a detailed account of your Airtel postpaid bill follow the 2 options:
Option 1:
Simply login at airtel.in and go to Billing section >> Last Payments to view details of last 3 payments made.
Option 2:
You may also download My Airtel App and check your last 3 payment details by going to Manage Account >> Payment History.
Q7. What kind of benefits do I get with Airtel postpaid connection?
Depending on your usage, there is a lot that you can do with your Airtel Postpaid connection.
The benefits with Airtel postpaid connection keeps changing as the company updates them.
Please note: The offers benefits mentioned below are as per the current availability, Airtel can add/ discontinue these benefits as per their regulations. Also the benefits are different as per different plans.
Currently most of the Airtel postpaid plans offer:
Unlimited local and STD calls
High speed data
Data rollover benefits
Data usage as per the plan
Prime Video
Handset protection
Zee5 premium
Airtel Xstream
SIM add on services
To get yourself an airtel postpaid connection, log on to 10digi.com
Q8. How can I unlock these benefits?
Having an Airtel Postpaid connection and not using it's benefits?How you can simply activate all your Airtel postpaid benefits with this small tutorial.
Watch this video to know more: How to Unlock Airtel Postpaid Benefits.
Q9. What do you mean by family plans? How do they work?
Your Airtel Postpaid Connection with a single postpaid plan can provide entertainment to the entire family. With one postpaid connection, you can add on connections to share calls, data and what not. This makes a total saving of 30% spend on family connections.
There are two types of connections that you can add to your Family Plan:
Regular Connection – With this, you can share calls as well as data with your family member. You can add this connection to your plan at just Rs 199/month. With every connection you add, 10GB extra data gets credited to your account.
Data-only connection – With this, you can share your plan data with your devices. You can add this connection to your plan at just Rs 99/month Some of our Family Plans come with FREE connections for your family. For details on the plans, visit www.airtel.in/myplaninfinity
Queries Related to Prepaid Connection

Q1. I need a new Airtel Prepaid connection, where can I buy?
Now you don't have to look for an Airtel store to buy a new connection. As Airtel prepaid connections are easily available online.
To order your prepaid connection online, you just need to log on to 10digi.com and order from the prepaid section which will move you to Airtel Prepaid Plans. Not only does 10digi give you all the Airtel Prepaid plans at one page to choose, but it also gives you options from all other operators in both prepaid and postpaid connections.
The prices are transparent as you are only charged for the SIM price and nothing more. Also, 10digi offers free delivery which makes it even more better.
Here are steps to follow to get a new Airtel Prepaid Connection:
Step 1: Log on to 10digi.com.
Step 2: Select prepaid section and choose Airtel as your operator.
Step 3: Choose from the various Airtel prepaid plans listed.
Step 4: Fill in the delivery details and place order.
Your Airtel Prepaid Connection will be delivered at your desired location in just 2 hours.
The second method to buy an Airtel prepaid connection is to visit a nearby store. To do so, you will have to locate a nearby store and visit it during the client serving hours.
At the store, you will have to fill in your details and wait for your number to be activated.
Q2. I am facing troubles in activating my new Airtel Prepaid connection, who can help?
Here are a few steps that you should make sure to follow in order to get your number activated.
Step 1: Once you have got your prepaid connection SIM and the KYC process is completed, you should wait for about half an hour.
Step 2: Next step is to insert the new SIM in your phone and dial the activation number.
Step 3: In case of Airtel, you have to dial 59059. Follow the instructions as received from the automated call.
This process is called tele-verification of your number.
Once you are through this process, your number will be auto activated.
In case you have bought your SIM from 10digi.com:
For queries related to FRC on your Airtel Prepaid Connection, please dial 011-41169998 (8AM to 9 PM) or send an email to [email protected].
Q3. My Airtel FRC is not processed yet, what should I do?
We are here to provide you with the required assistance on your Airtel Prepaid connection FRC issues.
Please follow the instructions below on the basis of your place of purchase of Airtel Prepaid Connection:
1. In case you have bought the SIM from 10digi.com:
Once your number is activated as per the above mentioned steps, please initiate your request for first recharge by dialing 011-41169998 (8AM to 9 PM) or send an email to [email protected].
Please do not place FRC or any other recharge from outside. On purchasing the SIM, you have paid for the first recharge and the same will be credited to your account after you have activated your number and initiated the FRC request.
For further information on FRC, check out this page FRC Support.
2. In case you have bought the SIM from Airtel store:
If you have purchased your Airtel SIM from a store and you are facing issues with FRC, you will have to visit the store again and check FRC status.
Q4. How do I check the offers/ plan validity of my new connection?
Buying a new Airtel Prepaid connection?
If you are buying a new Airtel Prepaid connection, here is your quick link to the latest and the most selling Airtel Prepaid Plans.
Get details of all the first recharge plans for your new connection with the added benefits, offers and validity.
You can buy a new Airtel prepaid connection from 10digi.com and get your SIM delivered at your doorstep in just 2 hours with a free delivery facility. There is a lot more that you can do at 10digi.com.
Q5. Looking for recharge plans and offers for your current Airtel Prepaid connection?
If you are looking for the best recharge for your Airtel prepaid connection then your one stop solution will be Airtel App.
Earlier known as My Airtel App, Airtel Thanks App will be very useful for a lot of things. You can check the latest Airtel plans and benefits. Also you can check the current plan and know your usage.
Here are the simple steps to know about the latest plans and recharge your connection at the same time.
Go to the Airtel Thanks App
Open the recharge section
Choose mobile recharge (you can also recharge your DTH or datacard from here)
Look for your preferred recharge plan in the recommended section. You can also choose the 'All Packs' option to get details of all the recharge plans available.
Choose any Airtel prepaid recharge plan and proceed to payment.
Your Airtel Prepaid recharge will be done automatically without having to step out of the house.
Q6. What additional benefits do I get with Airtel prepaid connection?
Airtel often surprises its customers by adding premium benefits to not only postpaid customers but also to its prepaid customers.
When you choose Airtel prepaid connection you can get many added benefits. Some of these includes:
1. Subscription to wynk App: If you are a music lover then Wynk is a must have for you.Get access to all the old, latest or any kind of music in this one app.You can also download songs and create a playlist to use even when you are offline. You get a free subscription of wynk with many of Airtel prepaid plans.
2.Subscription to Airtel Xtream App: Convert your phone to an anytime accessible TV. Xtream app gives it's users access to a huge variety of TV series, latest movies and to the world of entertainment. This also comes in an offer with most of the Airtel Prepaid Plans.
The list just goes on….
To order you Airtel Prepaid Connection and get free delivery at your convenience, just click here and follow the process.
Please note: The offers are subjected to Airtel's regulations. It can be added/ discontinued by Airtel.
Q7. My recharge is not reflecting in account, what can be done?
Here is what you can do:
Sign in to your account using your prepaid mobile number on airtel.in.
Click on the Recharge History tab on your account home screen to get the status of your recharges.
Dial *121*3# to check your recent recharges
OR
Download myAirtel app and add your prepaid account on it using the 'Add account' link under the 'my accounts' section on the homepage.
Tap on the prepaid account from the home screen and select Recharge History to get the status of your recharge.
Please note only recharges made through myAirtel app are shown here.
Queries Related to MNP/ Port Number:
Understanding Port Number:
MNP or port number is a process where you can move to any operator of your choice WITHOUT CHANGING YOUR NUMBER.
MNP or porting process works th
e best if you are facing problems in your current mobile network.
The time taken to port your number to a new connection is just 3 days. And with 10digi.com, you can port your number sitting at home.
Don't worry, your number will not stop working. Porting process is swift, quick and easy.
Get all information here: MNP Process and Rules.
Q.1 How can I port to Airtel Prepaid?
No matter what connection you are using, you can move into an Airtel Prepaid connection in just a few clicks.
Here is the process to port to Airtel Prepaid:
Create porting code: This code is required to initiate the porting process. To generate the code, you just have to send an SMS to 1900 in the below format:
PORT<space><your number>
You will get back an SMS from 1901, keep it safe. This will be used further in the process.
2. Choose your Airtel plan: Next you need to log on to 10digi.com or click here <page link> and choose port number option. Here just select Airtel as your operator and select the plan that you want to use for your new connection.
3. Delivery details: Fill in your delivery information and choose a delivery time for your airtel prepaid plan.
And that's all. Your connection will be delivered at your selected time. Give the porting code to the delivery agent and he will help you with the KYC process.
The entire process is effortless and less time consuming.
Q. 2 I want to change my Airtel connection to something else, what can I do?
You can change any connection to a new one without having to change your number. To do so, simply port your number to any operator of your choice using 10digi.com.
The process is pretty simple, just log on to 10digi.com and follow the simple steps. SIM will be delivered at your location in just 2 hours and the porting process will be completed in just 4 days.
Yes, it's that quick.
Also your mobile number does not stop functioning during the process. There are no hindrances and the process is pretty smooth.
Before starting the porting process, make sure the following criterias are met:
1. 90 Days Rule: In order to port number to a different operator, one needs to make sure that they have spent at least 90 days in the current network. Before 90 days, porting to a different network is not approved by TRAI (Telecom Regulatory Authority of India).
2. No Dues Left: Make sure that you have cleared all your dues, especially in case of a postpaid connection. In case any bill amount or other payable is pening from the user then the porting request will be rejected.
Know more about porting rules and other related information in this blog: MNP Process and Rules.
General Queries:
Q1. What is Airtel App? How can it help?
Airtel App enables you to do a lot of things related to your airtel prepaid connection or Airtel Postpaid Connection. You can use this app to:
Know your current plans and benefits
Change current plan
Recharge airtel prepaid connection
Pay bills for postpaid connection
File issues/ complaints
Activate/ deactivate added service
And much more.
Q2. I have performance issues with my Airtel connection?
Airtel offers open network service to know the strength of your network. To know about your network strength visit airtel.in/opennetwork to check network strength at your area.
Q3. I need a new SIM with the same number, what should I do?
There can be many reasons for SIM replacement, some of them being:
Destroyed SIM
Lost SIM
Moving to a 4G SIM
Lost SIM with lost phone.
You don't really lose your number if your SIM is broken or not working as it is old. You can easily get your SIM replaced through airtel. In case you are going through any of the above issues and which to replace your airtel SIM, here is what you should do.
If your SIM is lost with your phone, make sure you register a complaint by calling the customer care helpline from airtel.
Next, visit the nearest airtel store. A mandatory ID here is that of the person on whose name the SIM is registered. The person should also be present at the time of store visit to verify details. You may also need to submit 2 photographs for proof.
The store executive will help you by filling the replacement form. There can be a nominal charge for SIM replacement. Usually, Rs. 25 but it may vary from store to store.
Within a few hours, your new SIM will be activated and all the benefits on your lost SIM will restart on your new SIM automatically.
Hope your questions related to airtel are answered in this blog. You can also use our media links mentioned below.
Here are your quick link to Airtel information media:
Airtel Postpaid plans and offers
Port To Airtel in 6 simple steps
Activation process for Prepaid and Postpaid
Get Airtel Postpaid Connection