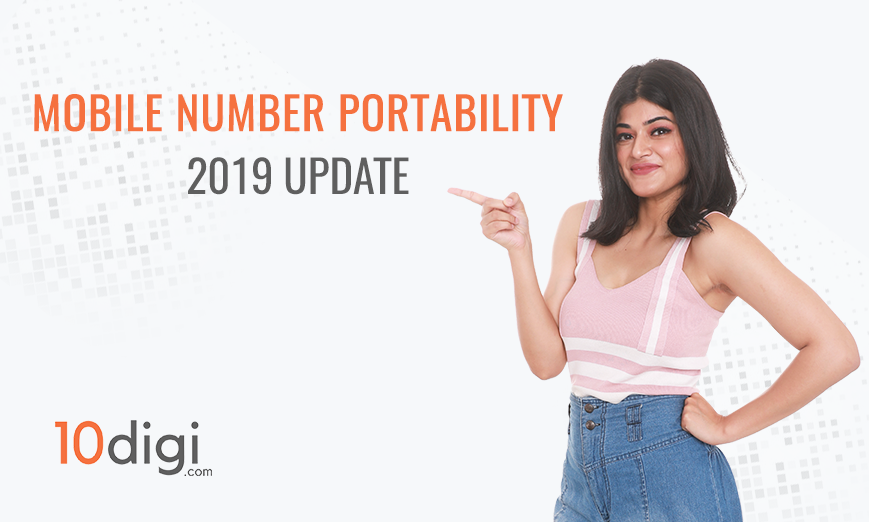 The service of mobile number portability was launched in 2010, since then the number of MNP users have been massively increasing. Millions of people have been moved to a different mobile connection without having to change the mobile number.
With the increasing number of people willing to port to a better connection, TRAI (Telecom Regulatory Authority of India) has issued new guidelines to make Mobile Number Portability (MNP) faster and easier. Keep reading to know how the new updates from TRAI will make porting to a new connection easier for you in the coming days.
Rule #1: Porting To Be Made Super fast
If the 7 days wait time is what that is stopping you from porting your mobile number to a better connection provider, then your wait is finally over.
With the update in guidelines, porting time is expected to reduce to 2 days for same circle porting and 4 days for different circle porting.
This change will be helpful to the users as the porting process currently takes about a week and the user is unnecessarily hassled. The new guideline suggests that all the telecom operators should complete the porting process within 4 days TAT.
Which means, if you want to change your mobile connection within the same city, then your porting process should be completed within 2 days.
And if you are changing your mobile connection for a different city/state, your number should be ported within 4 days.
Rule #2: Wrongful Rejections to be fined with Rs. 10,000
This is another big step that TRAI has taken to make mobile number porting process smooth and user friendly.
The 'Customer care Executives' and 'Retention Experts' hired by telcos used false practice to reject MNP request of customers. The often gave wrong information to the users related to porting of mobile number, as observed by TRAI.
In order to resolve this, a strict fine will be implemented for telcos.
If a telecom operator rejects an MNP request wrongfully or passes incorrect information to the users regarding porting connection, a fine of Rs. 10,000 shall be charged as mandated by TRAI.
"If any access provider or mobile number portability service provider contravenes the provisions… (it shall) be liable to pay an amount, by way of financial disincentive not exceeding Rs 10,000 for each wrongful rejection of the request for porting," – TRAI (Telecom Regulatory Authority of India)
Rule #3: Unique Porting Code Validity
Every customer needs to generate a unique porting code in order to start the porting request. Currently, this code stays valid for 15 days which means that the telecom operators have a lot of time to process porting request.
The new guideline suggests that Unique Porting Code (UPC) validity should be reduced to 4 days. This is valid for all Licensed Service Area (LSA) except the LSAs of Jammu and Kashmir, Assam and North-East.
The result of this change will be faster processing of MNP requests and better customer experience.
Rule #4: Corporate Porting Numbers Increased
In order to port corporate numbers, a single authorization letter can accommodate only 50 numbers currently.
After the implementation of new guidelines by TRAI, corporate porting will be available for 100 numbers with a single authorization letter.
Rule #5: Close Evaluation on MNPSPs
To ensure customer satisfaction, TRAI will evaluate the quality of service parameters of all MNPSPs (Mobile Number Portability Service Providers) and Access Providers.
When will TRAI start implementing these changes?
Telecom Regulatory Authority of India deferred to 11 November for implementation of the new guidelines of Mobile Number Portability. These changes will help to make the MNP process fast and more optimised with better evaluation of service providers.
Follow 10digi.com/blogs to get more updates on the new MNP process to be implemented by TRAI for better porting experience.
If you are planning to move to a better operator, you can simply log on to 10digi.com and select the 'port number' option to choose the operator that you wish to port to.
You can choose from:-
Port to Jio
Port to Airtel
Port to Vodafone
Port to Idea
In case you are looking for a new connection, you can get prepaid/ postpaid connection from all operators like Jio, Airtel, Vodafone and Idea.
What makes 10digi better than others is its exclusive services like FREE DELIVERY in just 2 hours and instant activation of your SIM connection.
10digi.com is surely a one stop solution for all your SIM related needs.
You can also buy other products like Jio phone JioFi and more.
Enjoy the convenience of home delivery at your desired time slot with FREE DELIVERY, only at 10digi.com.