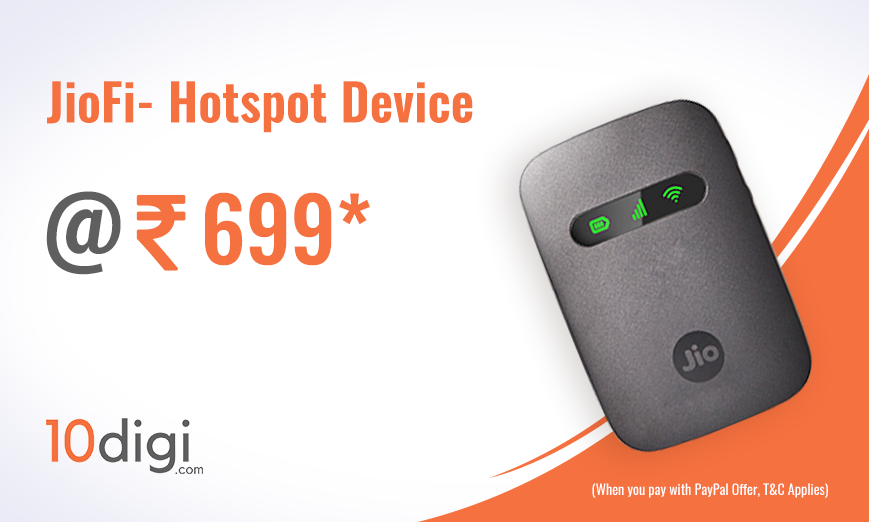 Reliance digital's JioFi is already a hot-selling in the market. The portable device has captured the market with its user friendly design and advanced features. So if you are planning to buy a new Wi-Fi connection, JioFi can be the right choice.
This blog will detail about how JioFi can be a real life comforter for those who need to connect multiple devices at the same time or to those who have terrible network connection on their phone.
Here are some of the fantastic features of JioFi that has helped it become a top portable Wi-Fi dongle.
About JioFi Price
Let's start with the price first because it is a deal that you just can't miss. JioFi's market price is Rs. 2419. But if you order JioFi from 10digi, you can get it at an unbelievable price of just Rs. 699 (when you pay with PayPal offer).
Yes, you read it right!
JioFi is available for Rs. 699 with free delivery and instant activation.
We bet you won't be able to find such attractive offer anywhere else.
Now.. here is a bigger surprise. You don't just get a WiFi dongle, but what you buy is a power-house of speed and connectivity.
Continue reading to know what all you can get with a JioFi 4G Hotspot JMR541.
1.TRUE 4G SPEED
Get ready for the blazing fast internet. Now stream your favourite shows or listen to unlimited music while you work with a download speed of upto 150 Mbps and upload speed of upto 50 Mbps. This is an offer you surely can't miss.
2. Get 4G FEATURES ON 2G/3G SMARTPHONES
The world is moving fast today and so should be your phone. Now you can enjoy 4G features even on your 2G/3G phone. Get JioFi dongle and gain your superpower to access high speed 4G data even on your 2G/3G handset. You can also download Jio4GVoice app on your 2G/3G smartphone to make HD voice calls. Why live with 2G when you can easily shift to 4G.
3. ENJOY VIDEO & VOICE CALL FEATURES
There is just so much that you can do with your JioFi portable hotspot. Shorten the distance from your long lost friends group with the group video and voice call features. Set up (5+1) audio calls conference and (3+1) video conference calls with the Jio4GVoice app. Get ready to experience HD voice calls and video calls that will always keep you connected with your loved ones.
4. CONNECT & SHARE
The powerhouse of connectivity allows you to connect upto 32 devices. Which means you can connect your phone, laptop, tab, smart TV, smart watches and every other device to this small, portable hotspot device. This is to make sure that your life is convenient and your pockets are happy as you don't have to get different connections for different devices.
5. POWERFUL BATTERY
Giving more power to you is the unbelievable battery life of JioFi portable dongle. Best in class battery (2600mAh) supports 7-8 hours surf time which means you can spend the entire day on the internet without worrying about the battery/ usage cost or anything else.
6. ON THE GO DEVICE
Needless to say that we all like small portable devices that do not add to our bag size or weight. Well, this on the go device is just the right fit for you when you are travelling for work or for holiday and even for your day to day routine. Now you can relish the convenience of not having to search for any electrical outlet with a built-in rechargeable battery. Just carry your sleek and stylish JioFi everywhere you go.
To get your JioFi dongle, just log on to 10digi.com and easily buy your device in a few clicks. We know how much you hate waiting for your orders. This is why we make sure that your order is delivered within 2 hours and you can enjoy faster internet connectivity as soon as possible.
At 10digi.com, you can also choose from different products like Jio 4G mobile that allows you to use all apps like facebook, whatsapp and others with all the 4G benefits in just Rs. 1,499.
You can also buy a new SIM connection or port your number to any operator sitting at home. Here are the SIM connection types that you may buy from 10digi.com:
Jio Prepaid Connection
Airtel Prepaid Connection
Vodafone Prepaid Connection
Idea Prepaid Connection
Airtel Postpaid Connection
Vodafone Postpaid Connection
Idea Postpaid Connection
Port to Jio
Port to Aitel
Port to Vodafone
Port to Idea
Which means, that you can get Jio SIM for your JioFi dongle in a single order. You will not have to find a store to activate your JioFi dongle. Just order from your home and get free delivery with instant activation.
To buy JioFi dongle, Jio device, SIM connection or even a fancy mobile number, log on to 10digi.com NOW!