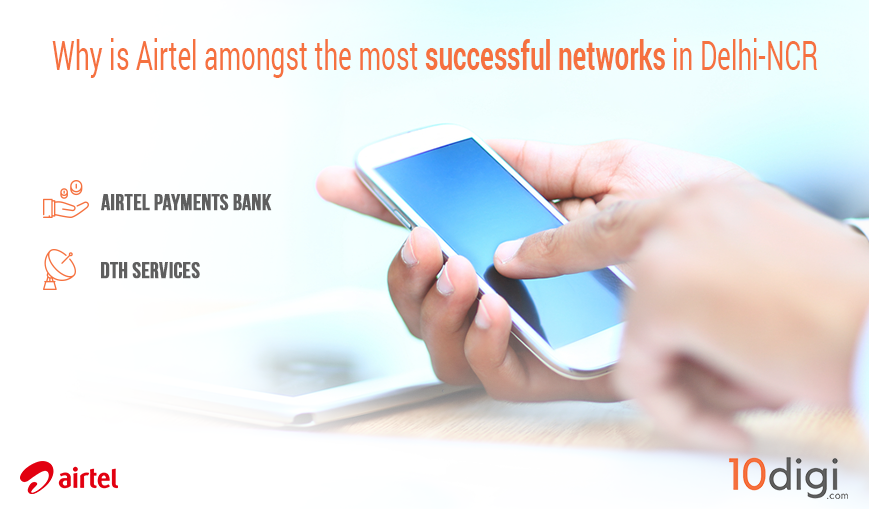 Having more than 47 million subscribers in Delhi, Bharti Airtel is definitely one of the top telecom companies in Delhi-NCR. There is a lot that Airtel has to offer to its users and this is the reason it is loved all over.
With so many plans and other related services, Airtel has remained a favorite since many years now.
Have a look at the list of services that you can and you should avail if you are an Airtel user.
1. Airtel Payments Bank
Airtel is the first network to launch payments bank. Now the users can carry savings account in their hand and use it with just a click. This differentiated payments bank is made to provide necessary financial services to its customers.
So far, the payments bank has been a huge success and the future also looks promising. These payments bank are not limited as the digital wallets like Paytm and Mobikwik but has much more to offer the customers. Having been conceptualized by RBI, the users can operate both savings and current account with payments banks.
The benefits of Airtel Payments bank includes:
Free talktime: get one minute for every rupee deposited in Airtel Payments bank.
Increased transaction limit: Unlike the wallets that gives only Rs. 20,000 limit, the Airtel Payments Bank allows transactions up to 1 lakh per month.
Better rates of Interest: Airtel Payments Bank offers 7.25% interest on their deposit which is actually better than other conventional banks and wallets.
Easy registration and use: All a customer need to open Airtel Payments bank account is his Aadhar card. The Airtel number that the user owns becomes his account number.
Compatible with all handsets
Secured 2 step verification based on OTP (one time password)
2. Airtel DTH connection
DTH (Direct To Home) is a digital satellite service that gets the world of Television at home for TV lovers. Airtel provides the best of HD channels with a monthly rental pack starting from as low as Rs. 292.
With the Rs. 315 per month base pack, you get 289 channels and free 50 HD channels. There are more discounts when you buy your Airtel DTH Connection with your Airtel mobile connection. Easily manage your account and recharge it with My Airtel App.
There are many more such cost-effective services that Airtel offers to its customers. To avail these benefits of Airtel SIM and more discounts on your Airtel mobile connection, buy your Airtel Postpaid connection or your Airtel Prepaid connection from 10digi.com.
10digi.com is a web-portal that provides online SIM connections from top telecom companies and you can also port number online. It also provides free SIM delivery on the doorstep. All you need for your new SIM connection is your Aadhar card.
10digi.com is a good way of reducing the stress and efforts to buy a new SIM connection. Log on to www.10digi.com to buy Prepaid/Postpaid connections from Airtel/ Vodafone and Idea.
For more information, send an email to [email protected] or give us a call at +91 9999-33-00-22