The Telecom Regulatory Authority of India (TRAI) has made life easier for telecom users. Often people used to face problems in selecting a telecom operator for particular regions.
TRAI has launched a web portal which allows users to check network coverage details for all carriers. This portal is accessible at www.coveragemap.trai.gov.in. At present this is in beta mode and will be out as soon as the phase of data collection from telcos is completed. The beta program has data available from Delhi and MPCG (Madhya Pradesh & Chattisgarh).
This portal created by TRAI allows a customer to choose the operator about which they wish to enquire, then select the technology range and the location. The portal gives information on both signal strength and coverage of the selected telecom operators.
As explained further by TRAI, the portal created will be user friendly+interactive and will share information based on options like location, outdoor/indoor, technology (2G/3G/4G VoLTE), specific TSP, voice/ data. Filling in this information can guide a user about the network coverage of that particular connection in the specified location.
This portal can help customers to check and compare about the operators before buying them.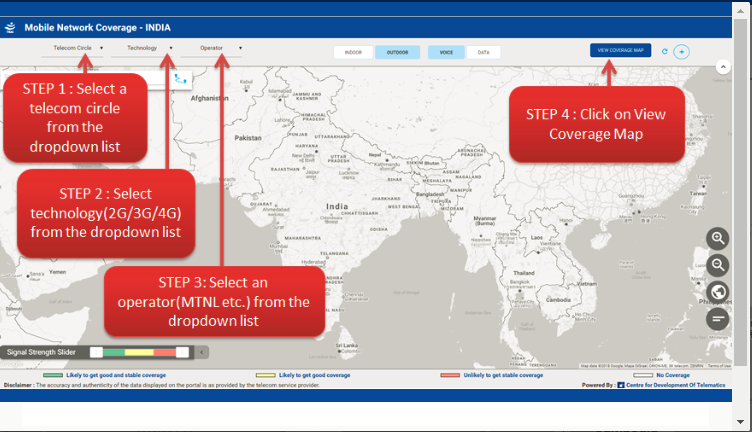 Why is it important?
Such a portal is required because knowing about location and usage plays a vital role in assessing the performance of an operator. Top connections like Airtel Postpaid New connection/ Vodafone SIM or Idea connection can have certain areas where either of it is not performing well. One reason for this can be low signal strength at particular areas.
Having a web portal like one created by TRAI will help users to analyse their favored connection based on the location that they visit the post. Thus, eliminating the chances of dropped calls or low data coverage.
TRAI further explains about the portal that "This is a data heavy portal includes visualizations of network at 50 mtr. resolution and simultaneous comparison of network between two operators. During the beta release, portal shall permit upto 50 concurrent users. If there are more than 50 users they will get message to access the portal/website after some time"
Although, some operators like Airtel and Idea cellular have already made their own portals to check about the network availability at different locations. But TRAI's portal will get all the telcos on the same platform. For better functioning, it has also collaborated with CDoT (center of Development of Telematics). CDoT is a government body which works to implement original telecom solutions to facilitate this portal.
To improve the services for its users, TRAI is seeking feedback from the stakeholders and users. Also, TRAI will be updating the portal on regular basis by seeking required coverage data from the operators.
What are you waiting for? Check for the network that works best in your location and order your connection now!
Get SIM connections from top telecom companies like Airtel, Vodafone or Idea in just a few clicks. Buy a new SIM connection or port number to Airtel/ Idea/ Vodafone (prepaid and postpaid) and get free home delivery.
Log on to 10digi.com to order online. For more information on the service, send us an email on [email protected] or give us a call at +91 9999-33-00-22.