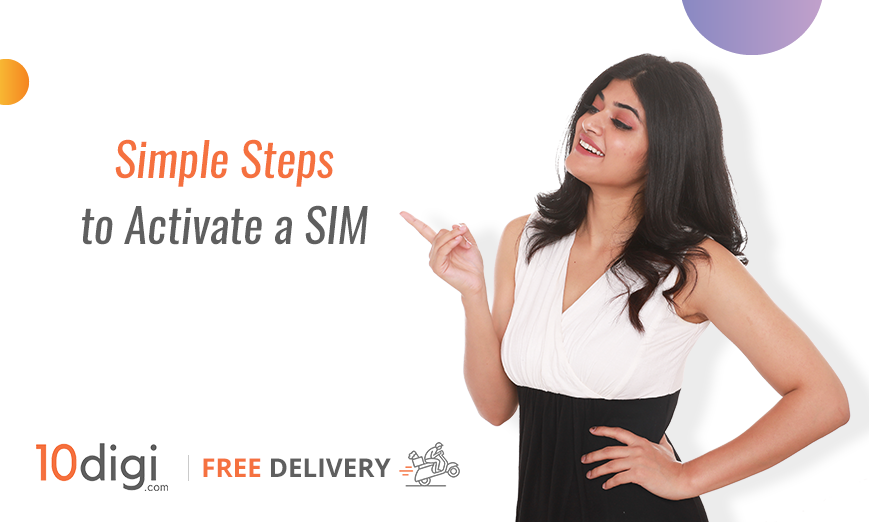 When you buy a new SIM connection or port your number online, one of the prime things to start using your SIM is to activate it. The process to activate a number is quite simple. All you need to know is the right steps to activate your number sitting at your home.
Keep reading this blog to know how you can simply activate your number by yourself.
If you are willing to buy yourself a new connection or plan to port your existing number online, the simplest thing to do is to order your SIM from 10digi.com.
You can choose from prepaid/ postpaid connections from all the operators. Here are the connection types that you can get at 10digi.com:
Airtel Prepaid Connection
Jio Prepaid Connection
Vodafone Prepaid Connection
Idea Prepaid Connection
BSNL Prepaid Connection
Airtel Postpaid Connection
Vodafone Postpaid Connection
Once you have ordered any of these connections online, the delivery person from 10digi will reach your location on the decided time. The executive will not only deliver your SIM card but will also help you complete the KYC process.
Once the KYC is completed follow the steps below for Prepaid. Postpaid and MNP users respectively.
Activation Process For Prepaid Customers:
After completion of the DKYC process of your new prepaid connection, wait for 30-60 mins. You will soon receive signals on your new number in order to tele-verify your number.
To tele-verify the number, dial the following numbers as per the operator selected by you:
59059: For Airtel
1507: For BSNL
1977: For Jio
59059: For Vodafone
59059: For Idea
On dialing the above number, you will be directed to an auto-recorded call. Follow the steps as directed on the auto recorded call in order to tele-verify your number.
Once the process is completed, your prepaid connection will be activated and ready to use.
The plan selected by you (your first recharge) will be auto credited to your new number once the tele-verification process is completed.
Please Note: Your FRC will not be credited to your new number if you have not completed the tele-verification process.
Activation Process For Postpaid Customers:
The activation process for postpaid connection is slightly different from prepaid connection. There is a two step verification process that is required to activate your postpaid connection:
1.Tele Verification: This step is exactly the same as prepaid tele-verification. In order to verify your postpaid connection dial the following numbers on receiving signals on your new connection:
59059: For Airtel
1507: For BSNL
1977: For Jio
59059: For Vodafone
59059: For Idea
Follow the steps as directed by the automated recorder to tele-verify your number.
2.Address Verification: The second step in activation of a postpaid connection is address verification of your postpaid number. An executive from your new operator will visit your location to verify the address that you have submitted in your documents.
This is a part of verification that all operators have to follow to verify a postpaid user.
Once both the verification processes are completed, your postpaid connection will be ready to use.
Activation Process For MNP Customers:
After delivery of SIM cards, porting takes about 7 days to be processed. Upon completing the process, all you need to do to activate your number is to follow the steps as mentioned above depending on the time of connection you have ported.
If you have ported to a prepaid connection, follow prepaid verification process mentioned above. In case you have ported to a postpaid connection, follow postpaid steps mentioned above.
That's all you need to do to activate your number. It's quick, simple and convenient.
Order your new connection/ port your number from 10digi.com and enjoy free delivery on your SIM.
10digi promises minimum price on all the plans offered. You only have to pay for the plan selected. There are no additional charges for SIM card.
To get your SIM connection at the best market price, free delivery and many other added benefits; log on to 10digi.com NOW!