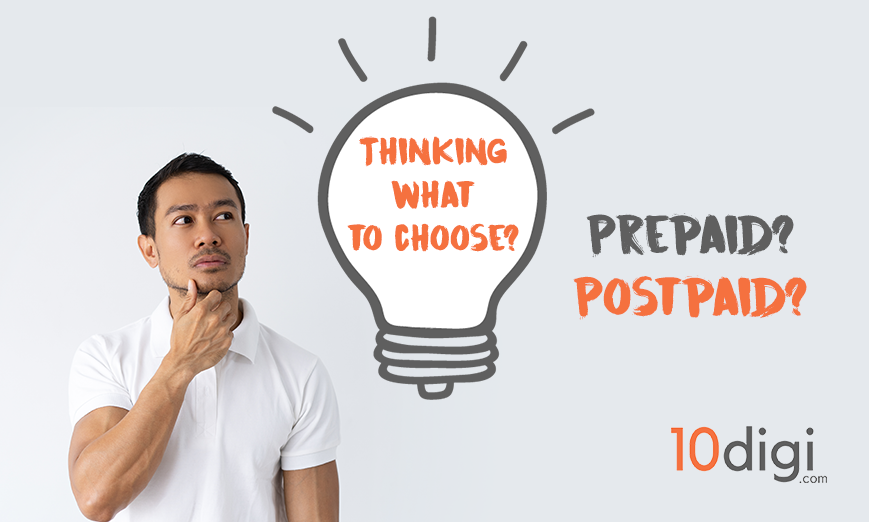 Choosing between prepaid and postpaid can be difficult. A lot of times people are confused and have low knowledge on what is better for them.
To begin with this decision, you must first understand what exactly is a prepaid and postpaid connection.
Prepaid Connection is when you 'Pre-pay' for your mobile usage. You can choose a prepaid recharge plan and start using the benefits according to the validity of your selected plan. With a prepaid connection, you can change plans at every recharge as per your requirements.
Postpaid Connection is when you pay your bills after using the connection for a month. There is a monthly rental that you select in the beginning which is the minimum amount that you have to pay for your postpaid connection. This plan will be auto-activated each month. You don't have to choose a new plan each month for your postpaid connection.
Thus, this is how prepaid and postpaid connection are majorly differentiated: on the basis of their payment method.
In the past 1- 2 years, the entire telecom industry has undergone major changes. Top telecom operators like Airtel, Jio, Vodafone and Idea have got new prepaid and postpaid plans making it much more affordable for the users.
Wondering which connection type will be better for you? We have the answer! Here is a blog that will help you understand if you are a "Pre-paid-person" or "Post-paid-person".
1. Based On The Flexibility Of Tariff Pack's Choice
If you like the flexibility of changing your plans every month, then you are definitely a prepaid person.
With a prepaid connection you can choose one or many plans according to your usage. You can add on to your data by taking an additional package as and when required. There are small top ups or separate data packages to choose depending on your requirements. There are various prepaid recharge options to choose for Airtel Prepaid Plans, Vodafone Prepaid Plans or Idea Prepaid Plans.
Which means, that a prepaid connection let's you enjoy total control on your mobile recharges. You can customise prepaid plans according to your needs.
A postpaid connection also gives you the freedom to change the monthly rental plans. But you have to choose from specific plans as provided by the service providers. Any extra service used will be an addition to the bill.
2. Based on Bill Payments
When talking about bill payments, prepaid and postpaid connections are absolutely different.
You should take a Prepaid connection if you like to stay safe from the bill payments. Since prepaid connection users have to pay for their usage in advance, there are no surprises/ shocks coming up later for the mobile connection usage. Using a prepaid connection, you know exactly what you have paid and the benefits that you will get along with your prepaid plan. You can also add on to the package by selecting additional services as required.
One small drawback of prepaid connection is that you have to keep a close eye on your package validity. The service will stop immediately as the package value or validity expires.
With a Postpaid connection, you don't have to worry about the services being stopped abruptly. The operators give you a buffer time even after the due date of your bill payment. But then the users anyway have to do the payments monthly. So if you like being lazy with your bill payments, Postpaid connection is right for you. You can good options with Airtel Postpaid Plans, Vodafone Postpaid Plans and Idea Postpaid Plans.
3. Based on Additional Benefits
Postpaid users can get a good deal of extra benefits with their rentals. For example: Airtel Postpaid Plans offers data rollover, free wynk music, Live TV and Handset protection if you buy a new SIM online. Similarly Vodafone postpaid plans offers Netflix, data rollover and device security. Idea Postpaid Plans are available with zero security deposit, also providers data rollover and device security.
But these added benefits with Postpaid connection comes with a subscription period, i.e., limited validity. This means that the benefits will be available for a limited time, based on specific connection provider's packages. Also, there are only selected postpaid plans that offers additional benefits. You have to choose the plan according to the benefits.
Prepaid users can get benefits like free voice calls, free SMS and reduced/ no roaming charges in their packages. A new prepaid connection might not provide as many added benefits as in Postpaid.
4. Based on Value for Money Plans
Prepaid connection offer great value for money that you pay for your prepaid plans. You can get packs with huge validity and large data in your budget. Also, you can pick from small packs for daily or weekly data and a lot more.
There is no doubt to the fact that a prepaid connection offers more value for money as compared to a postpaid connection.
So, if you are willing to buy a SIM card for your daily needs or for your young ones, you should definitely go for a prepaid connection.
It's absolutely easy to buy a new prepaid or postpaid SIM or to port number sitting at home. Just log on to 10digi.com and choose prepaid/postpaid plans from Airtel, Vodafone or Idea. Also, you can choose your mobile number from lakhs of options available at 10digi.com.
Get the SIM delivered at your location in just 60 minutes.
It can't get easier than this! Hurry! Order now.