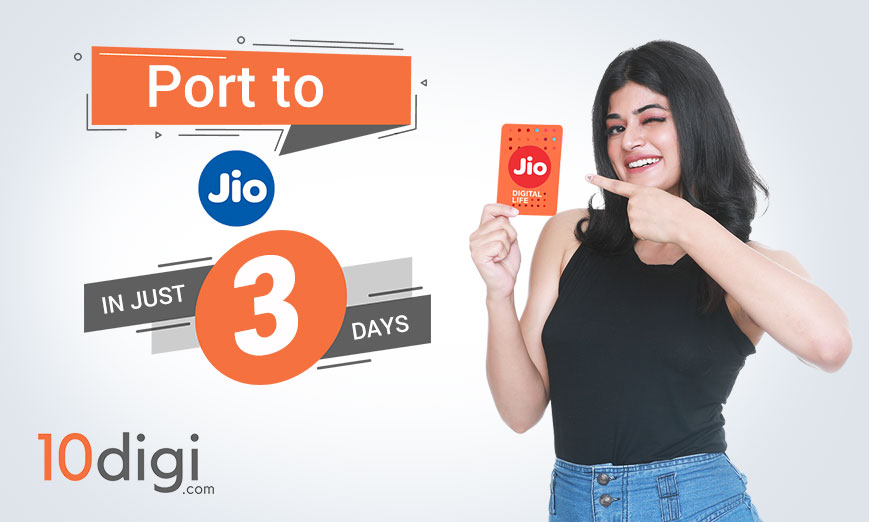 If you have been thinking to port to Jio, now is the right time. You can port your number in just 3 days sitting at your home with 10digi.com.
With the changes in TRAI (Telecom Regulatory Authority of India) guidelines, the time to port number has been reduced to 3 days as compared to 7 days earlier.
Here is how you can port to Jio prepaid connection without changing your mobile number.
10digi.com is the simplest, fastest and most convenient way of getting SIM cards delivered at your doorstep.
In order to get your Jio prepaid connection, all you need to do is:
Step 1: Log on to 10digi.com.
Step 2: Choose port number option and then select the operator that you wish to port to. For example, if you wish to port to Jio then select Jio as your operator.
Step 3: Select the plan that you wish to get for your new connection. You can choose from the range of plans present at 10digi.com.
Please Note: The price of the plans are as mentioned by telecom operators. 10digi does not charge anything extra from the customers. There is no additional/ hidden cost for the SIM or delivery.
Step 4: Once you have selected your connection type and plan, you can proceed to the delivery details section. Fill in the details of your order and choose a time of delivery.
Step 5: Place order and your SIM will be delivered at your doorstep in just 2 hours or at your selected time.
While porting your connection, there are a few important things that you should always keep in mind for successful delivery and activation of your new connection.
A. Unique porting code
UPC or Unique Porting Code is an important feature of porting your mobile number.
As per the new rules of TRAI, unique porting code is mandatory in order to port your number.
In order to generate a unique porting code, you need to send an SMS to 1900 in the below format:
PORT<space><mobile number>
For example:
PORT 9876543210
Once you send an SMS on the above format, you will get an SMS back on your phone within 15 minutes from 1901.
Share this code at the time of placing order of your SIM at 10digi.com.
The unique porting code stays valid for just 4 days, thus it is important to submit your porting request when you get unique porting code from TRAI (Telecom Regulatory Authority of India).
B. Advance Payment For Postpaid Connection
For successful porting, you must have paid all your dues with current operator to port out to a different operator.
Also, you should pay extra amount for usage during the 3 days of porting process.
In case of non-payment of the previous bills, your porting request can be rejected from the operator's end. To avoid any rejections in the porting process, make sure you have paid your bills with advance payment of 3 days (for usage during porting process).
You can choose from:
-Port to Jio
-Port to Airtel
-Port to Vodafone
-Port to Idea
-Port to BSNL
To port your number NOW, log on to 10digi.com and enjoy fastest porting process, 2 hours delivery and instant activations.