Port your number to Airtel in just 2 minutes
And get Free SIM delivery in Delhi-NCR.
Here is just want you have to do to port your current number to Airtel in just 3 days sitting at your home.
Port To Airtel In 3 Days
OH, Yes!
There is no reason for you to keep struggling with a bad network coverage. One of the best ways to solve this is to
port number
to Airtel.
Airtel is amongst the largest network in India and has billions of users. Thus, it is worth a try if you want to improve your network coverage and data speed.
Airtel also has a wide range of postpaid and prepaid plans to suit user's requirements.
How to Port To Airtel?
Thanks to the technological advancements, porting process is no more a hassle now. You can now get your number ported to Airtel prepaid/ postpaid or any other network at your home.
To know how to port number, follow the steps mentioned below:
1. Generate a porting code by sending PORT(space)(mobile number) to 1900.
2. Keep the received porting code safe and use it within 4 days, post which it will be expired.
3. Submit application for porting: Instead of going to the Airtel store you can simply port to Airtel by logging in to www.10digi.com and fill in your plan and delivery details. Your porting process will begin sitting at home.
4. Processing Time: After submitting the porting request, you will receive a message from the current provider indicating the status of your request and the date and time of porting. The entire process takes 3 working days for porting in same city and 5 days if your are porting from one city to another.
5. Activation: Your new Airtel Prepaid/ Postpaid connection will be activated when the old one stops working (this usually happens in mid-night). So, till the time your porting request is processing, you can continue using the old connection. Change the SIM when old one stops working.
6. First Recharge Amount: The selected first recharge plan in case of Airtel prepaid connections will be credited automatically in the new SIM.
Are there any Rules?
The 90 days same Network rule: You cannot port your number to Airtel or any other connection if you haven't stayed in the same network for at least 90 days.
The no outstanding dues rule: If you are a postpaid user, you have to make sure that there are no outstanding bills at the time of porting to Airtel. Also, you should pay an extra amount of Rs.50-100 that can be used during the 3 days of porting time.
The no balance carry forward rule: If you are a prepaid user then your current balance will not be carried forward when you port to Airtel or any other network. Thus, make sure you use the balance at the time of porting process.
Aren't you excited to buy your new Airtel plan and enjoy the benefits of India's largest mobile network:
So are we, to deliver the best performing network connection at your doorstep.
Choose from the plans below and get ready for unlimited calling and high-speed data.
Prepaid Plans:
Have a look at the first recharge plans to start your connection.
First recharges are different from your regular recharges. It is important to choose from the FRC options as given by the network provider to be able to start using your connection. Post the first recharge, you can choose any plan suiting your requirements.
The best selling FRC options are listed below: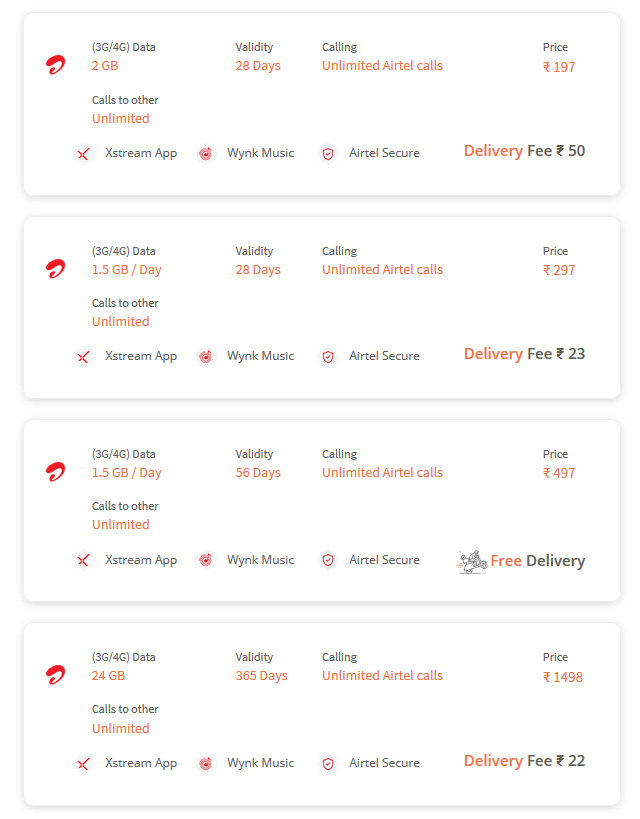 Postpaid Plans
Choose the benefits that you wish to opt for your postpaid connection. You can change the billing cycle anytime as per your requirements.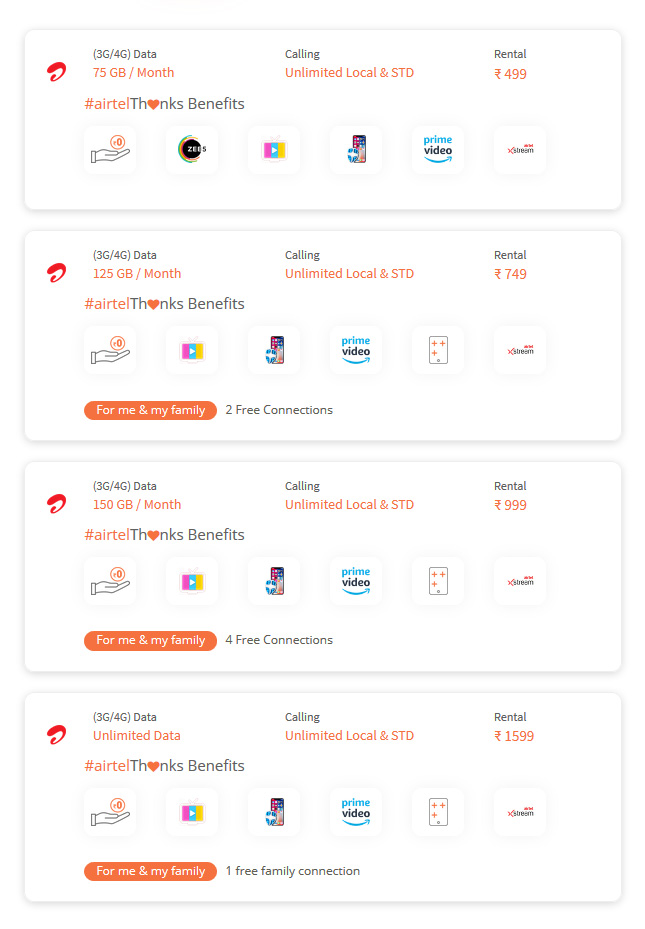 Porting number/
MNP
is super simple, log on to www.10digi.com and get your number ported sitting at your home. Be a smart person by shopping the smart way.
Buy your connection/Port number ASAP to get added benefits
Want to PORT Your Number?
Do it Right Now
Port your number to Airtel in just 2 minutes
And get Free SIM delivery in Delhi-NCR.