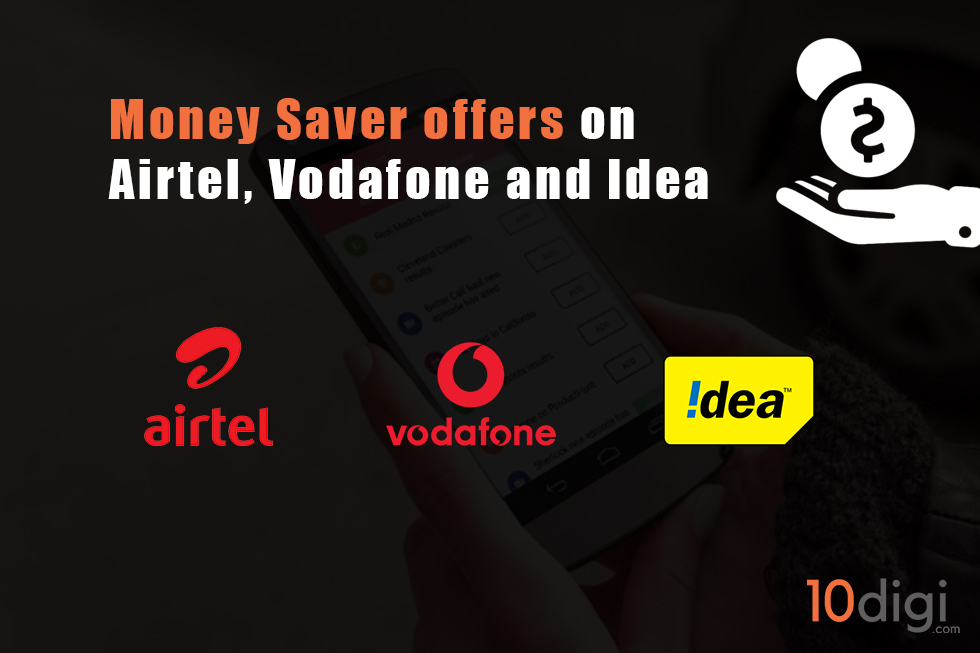 The telecom market has just so many offers floating in it every now and then. Who does not wish to save money on telecom bills. This is the reason we have got this information desk for you. Get information on the latest offers and money saving deals that the top telecoms like Airtel SIM connection, Vodafone or Idea has got for you.
Here is the list of the latest offers on the top TSP (Telecom service providers) that can help you save money in various ways.
1. Vodafone International Roaming Pack
If you are a frequent traveller, this is something you MUST HAVE. Vodafone has introduced a first ever international roaming pack for its users. Now the travelers can roam around the world without having to stress about huge phone bills.
Vodafone users travelling to UK or Europe and other countries like USA, UAE, Singapore, Malaysia can get unlimited packages for as low as Rs. 180 per day. This offer is available for both prepaid and postpaid customers.
For other countries, Vodafone has introduced more saving deals where the users can have unlimited incoming calls for free and make call for Re. 1/ min while the data is also for just Re. 1/MB. These countries include Japan, Qatar, Sweden, Denmark and more.
What are you waiting for? Pack your bags and order you Vodafone SIM connection right away. Vacations are calling!
2. Assured cashback and prizes with attractive recharge
As Idea would have said it, "A recharge can save your money". Idea cellular company launched a new campaign for its prepaid users giving them a great deal of offers including unlimited calls, extra data and other benefits like assured cashback and surprise prizes like car, bikes, smartphones etc. All this when you recharge your Idea prepaid connection.
Knowing that there is a massive rise in the data usage and more so in video consumption all throughout India, Idea has created a campaign for its users in order to further enhance data usage with video viewing.
Don't think much, "Kal Dekhe So Aaj Dekh, Aaj Dekhe So Right Now"! Book your Idea prepaid SIM connection right away and get ready to watch unlimited videos and win attractive prizes.
3. Big Discounts on every bill cycle
Idea and Vodafone gives out discounts on every bill cycle till 12 months. Get postpaid SIM connections from Idea and Vodafone at just Rs. 289 (Idea) and Rs. 299 (Vodafone). Enjoy unlimited calling, 20 GB data and many other benefits like data rollover, access to LIVE movies and much more.
4. Airtel & Hotstar's strategic partnership
Get LIVE TV experience anytime and anywhere with your Airtel connection. As Airtel partners with Hotstar, it brings about 22 new channels, 3000+ movies and other exclusive shows for its customers. Enjoy streaming with your Airtel Prepaid SIM connection and your Airtel Postpaid SIM connection. Watch latest movies and your favorite TV channels on the go with Airtel connection.
To avail these offers, you can either book your new SIM online or port number in just a few clicks. The SIM connection will be delivered at your doorstep without any delivery charges. Get delivery within 3 hours of your order time and instant activation.
For more information, send us an email to [email protected] or give us a call at +91 9999-33-00-22