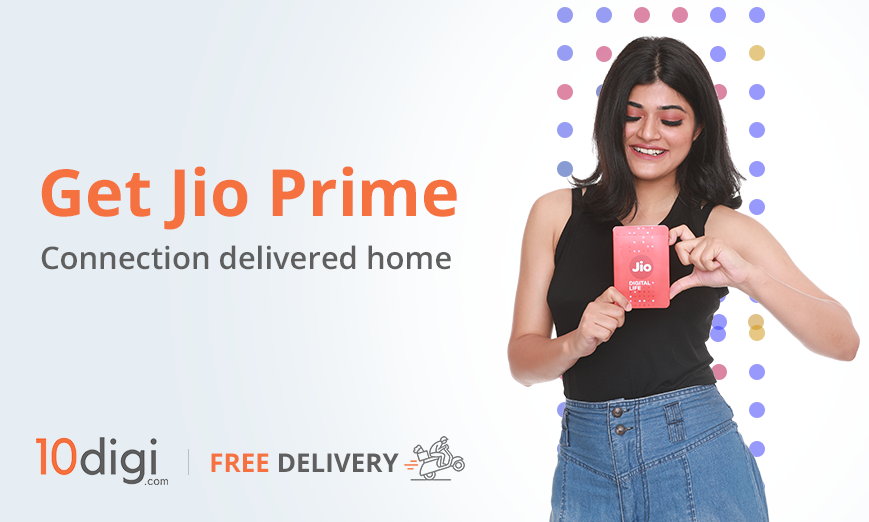 Here is the BIG NEWS!
Your wait is finally over!
Your favourite Jio Connection is now available at 10digi.com. That's TRUE!
We know how much you love Jio SIM. So, we have added Jio new SIM connection to the list of telecom service providers at 10digi. Which means, now you can order Jio Prepaid Connection online at 10digi.com and get it delivered in just 60 minutes.
Jio has been constantly giving its users a prime feeling. And with Jio Prime Memberships, the game has moved a level above.
Jio brings its exclusive, Jio Prime Memberships for customers to make the most of their Jio prepaid plans.
That's right! Even prepaid users can enjoy prime benefits when you buy Jio Prime Prepaid SIM Connection Online.
Wondering what exactly is a Jio Prime Membership?
Here is your answer:
Jio Prime is a one year subscription to endless entertainment, news, chats and lots more. Here is what you get when you buy your Jio Prepaid SIM connection from 10digi.
1.Jio Saavn
We all love listening to songs. Sometimes we like old songs, sometimes bollywood and then there are times we want slow romantic songs. Get songs for all your moods in just one app. With Jio Prime Plan, you get a complimentary subscription for 1 year to JioSaavn which gets you 45 million songs always in your pocket.
You can make a library of your own and enjoy your favourite music on the go with the JioSaavn App. What makes JioSaavn even more interesting is that you don't need to buy additional packages for ad-free music. Yes, that's right! There are no ads in between your favourite music. Simply download music by searching for songs, artists or albums.
Why wait for that perfect song, keep your favourite music always on your phone and make your long drives and parties even more memorable.
2. JioTV
Missing out on your favourite shows and matches because you have to be out at work or shopping with friends? No, not any more. Now you can watch all your shows and matches live. Get access to 600+ TV channels like sports, news and lots more with JioTV app. Enjoy your favourite shows in your preferred language anytime-anywhere.
Get the superpowers in your hand. You can pause or play your video on live channels. Get it now and make sure that you don't miss your shows even for a minute.
3. JioCinema
Thinking what to do on weekends? You will never be bored with the 1 Lakh+ hours of HD entertainment that you get with JioCinema. You can watch movies and entertainment of your taste that too without any ads. Enjoy the latest movies and the old hits from all over the world at your fingertips.
You can download any movie and take it with you on your phone anywhere you go. Download your daily dose on entertainment and watch it even when you are offline. That means you can watch a movie even when you don't have a good connection in metro or when travelling out of the city.
All it takes is just one click to watch your favourite shows at your convenience. Watch your matches/ news or shows on your phone or tablet, laptop or even on your TV.
4. JioNews
If you are the one who loves being updated with all that's happening around the world then Jio Prime Connection is just the right SIM connection for you.
With your Jio SIM online, you get a complimentary subscription to JioNews for 1 year. Which means you can be updated with all that's happening in the world in just a few clicks. Get News updates in any language, anytime-anywhere when you buy Jio SIM card online.
JioNews gives you access to over 150 news channels that you can watch live from any place. So you can have your favourite news channels always with you and always be updated with the news.
5. JioChat
Jio knows how we all enjoy being connected to our friends and family. That is why it gives JioChat with Jio Prime connection. Now you can stay connected to your loved ones and share your special moments online. Experience the happiness and warmth of communication with loved ones with Jio's advance messaging, HD video and voice calling.
With Jio Prime Connection, you get extraordinary experience of HD video calls wherever you are. Give a personal touch to your messages by using regional languages. You can chat with single contact or even in groups. The emoticons, stickers, GIFs, pictures and video that you get with JioChat just makes chatting experience more fun. Isn't it quite exciting? Well we are sure you love this. People are going crazy about Jio Prime connection and we love how much they love the connection.
And there is a lot more! If you too are willing to get the super Jio offers for you, then here is the coolest and fastest way to get it. Just order your Jio Prime connection online and get it delivered at your location for free!
Yes! You read that right. You get FREE delivery for JIO prepaid connection.
Here is what you have to do to order your Jio SIM connection or port to Jio sitting at home:
Step 1: Log on to 10digi.com and select Prepaid option.
Step 2: Select Jio as your operator.
Step 3: Choose a plan for your new Jio Connection or port to Jio online.
Step 4: Fill in your delivery details and choose a time slot.
Step 5: Place order and relax.
The SIM will be delivered at your location and will be activated instantly at your doorstep.
It's that easy!
Oh wait! We have more of Jio surprises for you. You can also buy a Jio Phone or a JioFi connection from 10digi.com.
Jio phone phone is a powerhouse that lets you access to all the Jio Apps. It is a brilliant 4G feature phone that comes at a super value price of just Rs. 1499 at 10digi.com.
JioFi is your personal portable hotspot that you can carry anywhere you go. It can connect up to 31 devices and has a battery of 2600mAh. Get into the world of wireless sharing, order your JioFi online at 10digi at just Rs. 999.
Don't wait! 10digi is full of Jio surprises. Log on to www.10digi.com and order your favourite Jio connection online or port to Jio. To get more information about Jio SIM connection or Jio Phone/ JioFi, you can call us at +91 9999-33-00-22 or send an email to [email protected].