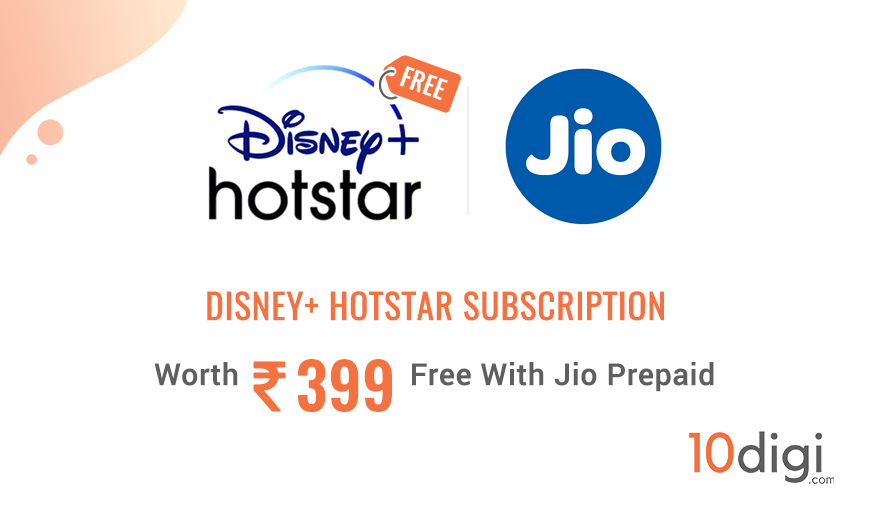 Are you missing out on great entertainment and ultimate fun? Well a subscription of Hotstar is just what you need to make your stay home time better. Nothing better if you can get this super easy with Jio offers at the most amazing price.
In the past few months all network companies have come up with lucrative plans and offers for its subscribers. Each one of us is looking out to get something extra with our existing plan. Sometimes we look for extra data, sometimes it's extra validity or free access to apps and shows. Usually these kinds of perks are offered to the postpaid customers against a fixed bill.
As times are changing network companies now offer a lot of added benefits to their prepaid customers.
During this time of lockdown people are limited to their home for every kind of entertainment. No outdoor games, no outings and no get-togethers. Web series and online games are getting very popular as it's the best time pass. Network companies are already offering complimentary subscriptions of Netflix, Amazon Prime, Zee5 etc. Another platform added to the subscription list is Disney+ Hotstar.
Jio has confirmed this offer on its official social media platform. Jio Hotstar offer is live now and can be availed with respective recharges. Jio is offering 1 year of Disney+Hotstar VIP access for free. Please note Hotstar VIP and Premium are two different packs.
Yearly membership fee for VIP is Rs 399 whereas Premium plan costs Rs 1499/year. VIP plan yearly access is available with selected Jio prepaid plans.Which are:
Rs 401 Plan
Rs 2599 Plan
Rs 612 Data Plan
Rs 1208 Data Plan
However, Jio is not the first company to offer Disney+hotstar subscription, Airtel has already launched a similar plan worth Rs 401.
Airtel's Rs 401 plan offers 3GB high speed data for 28 days bundled with Disney+Hotstar VIP subscription yearly subscription worth Rs 399. This plan does not offer any calling or SMS benefits.
Get your Airtel SIM delivered at your doorstep in just 2 hours. Click here https://10digi.com/prepaid/
How to Activate free Disney + Hotstar with your Jio prepaid connection
You recharge with Rs 401 monthly plan or Rs 2599 annual plan.
In case of existing plans, you can opt for Rs 612 or Rs 1208 data add on vouchers.
2.Download the latest version of Disney+ Hotstar app from the app store.
3. Connect your Disney+ Hotstar with an active Jio account and follow the steps.
4.You can watch shows directly on Disney+ Hotstar app as well as on the JioTV app.
All Disney+ Hotstar supporting plans come with all the base benefits offered.
Here is a detailed description of the plan and offers:
Rs 401 Jio plan offers 3GB high speed data per day, Jio-Jio unlimited calls, Jio to landline unlimited calls, 1000 minutes for Jio to other network calls and 100 SMS per day. All Jio apps subscription is complimentary with this pack. The 401 plan is valid for 28 days.
Rs 2588 Jio plan offers 2GB high speed data per day, 10GB additional high-speed data. Jio-Jio and Jio-landline unlimited calls. 1000 minutes for Jio-other network calls and 100 SMS. All Jio apps subscription is offered free with this plan.
Rs 612 Jio data add-on voucher gives you 72GB of high-speed data with 6000 minutes of Jio-other network calls. validity remains as per your existing base plan.
Rs 1208 Jio data add-on voucher is from the 'work from home' category. This voucher gives you 240GB of high-speed data with a validity of 240 days.
To know more about the offer watch this video https://youtu.be/Tv0pWCCnBAY
You can get your Jio prepaid SIM bundled with Disney+ Hotstar VIP plan delivered at your doorstep in just 2 hours. Click here to order now. https://10digi.com/prepaid/
Excited about the Disney+ Hotstar VIP plan offer? Do you want to port to Jio and wait for the lockdown to get over? Don't wait, port your number online with 10digi.com. Get all networks on one platform. The best part is that you don't have to step out of your home.
You will get your SIM delivered in 2 hours and our representative will do a digital KYC process at your place. We are taking necessary precautions and sanitary measures to ensure 100% safety of our riders and users.
Log on to www.10digi.com and explore
Stay home, Stay safe.