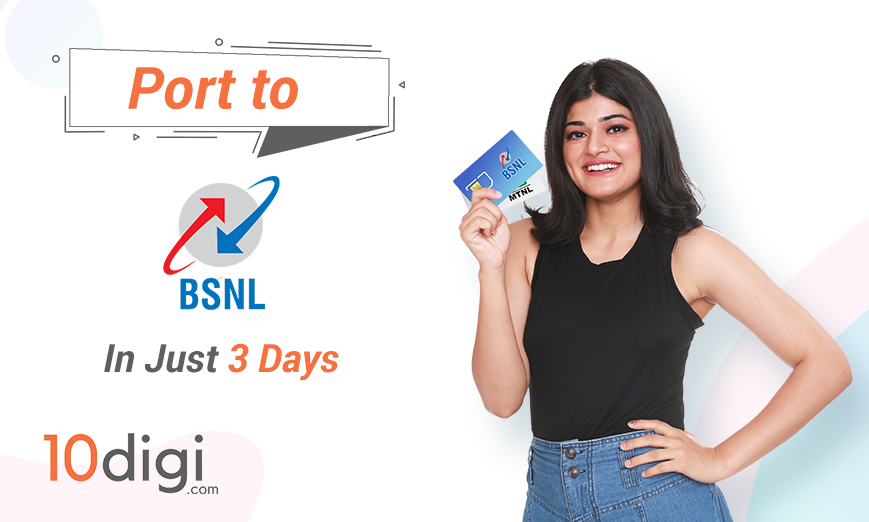 Are you unhappy with your current service provider? If you are experiencing frequent call drops, uneven mobile internet speed or think that your current operator is quite expensive then it's a time for change.
The simplest way to get rid of your current mobile connection is to port number online to a better and more affordable mobile connection. 10digi.com has made the process simple and quick.
Now you can port to BSNL sitting at your home with 10digi.com and enjoy paperless activation of your new connection or when you port your number online with 10digi.
If you are facing problems with your current operator, here is just what you need to know.
You can port your number to BSNL or buy a new one in just a few clicks.
BSNL is one of the oldest and trusted network providers. A government based brand with over 90 million subscribers. Also, it offers plans at quite a competitive price as compared to others currently functioning in the market.
And what can be better than getting this delivered at your home in just 2 hours. Porting is very easy with 10digi. You don't have to worry about filling up long forms manually or visiting stores for your SIM. Everything happens automatically while you are just relaxing at home. If you want to port to BSNL or want a new BSNL connection then you can log on to www.10digi.com and follow the steps below.
You can port to BSNL following these easy steps:
First go to www.10digi.com or open the app
Step1: Generate your UPC (Unique Porting Code)
Type <PORT> in capital letters, space followed by your 10 digit mobile number and send it to 1900.
For Example: PORT 9876543210
Within sometime you will get your UPC generated and you can proceed with the porting process.
UPC is valid for 4 working days only, after that you will have to generate it again.
Step 2: Select the operator
When you are on 10digi.com, select "PORT NUMBER" and you will land on a page where you have to select the desired service provider like Airtel, Vodafone, BSNL, Idea or Jio, and choose a plan from the list. For Example if you wish to switch to BSNL then you can choose BSNL and make selection from the displayed plans.
The plan amounts visible on the site are inclusive of all prices, there is no hidden cost. It's the same as offered by the service provider with an additional exclusive service from 10digi, which is free SIM delivery.
Step 3: Fill in the delivery details
Once you have selected your plan, fill in the delivery details like address and time slot.
10digi.com claims fastest SIM delivery within 2 hours in various cities including Delhi NCR.
Option of choosing a delivery time slot gives you a completely personalised experience according to your availability.
Delivery person will reach your address at the selected time slot and he will complete the KYC process at your doorstep which means you don't have to go anywhere to port your number.
For completing the KYC keep your aadhaar card or any other valid proof of identity and address with you.
After KYC completion SIM will be ported within 3 working days for the same state SIM and 5 working days for interstate SIM connections.
And it's done! 10digi.com has made MNP (Mobile number Porting) so simple.
Porting Rules
There are some rules to port your number as regulated by TRAI (Telecom Regulatory Authority of India). Before porting your number, make sure you are following these rules.
In below mentioned situations your porting request will be cancelled.
First: You will have to spend a minimum period of 90 days in the same operator before porting to another service provider. If you initiate the porting process within 90 days then the porting request can be cancelled.
Second: All dues with existing service provider should be clear before porting your number to another operator. If there are any pending bills/dues, your porting request can be rejected.
Once you have made sure that the above conditions are met, you can start the porting process at 10digi.com.
When you purchase your BSNL SIM or port to BSNL from 10digi.com, you get exclusive free home delivery as 10digi is the only platform to facilitate BSNL SIM home delivery without any additional/ hidden charges. It is the easiest and simplest way to get a SIM at your doorstep.
10digi.com is 100% safe and secure with payment. Various modes of payment are available like UPI, Debit/credit card, Internet banking and Cash on delivery. In case of cancellation before activation of the number, 10digi.com offers 100% refund.
For the best online mobile number porting experience visit www.10digi.com.
Want to buy a new SIM connection, fancy numbers, international numbers, or mobile accessories just go to 10digi.com and explore!