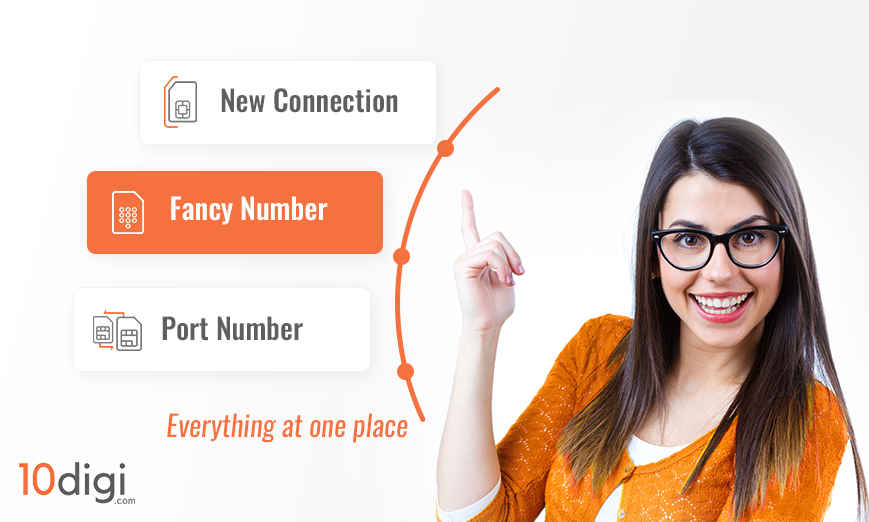 Remember how you used to buy a new mobile connection few years back?
It was a real task to locate a retail store and wait there for hours just to complete the process of getting a new mobile connection. And let's not forget the struggle of getting a decent mobile number out of mere 4-5 options.
Things have changed a great deal. Now you don't have to locate a 'Pan-Wala' or a retailer for your SIM connection. Ordering a SIM online is easier than ordering your food online.
At 10digi.com, you can order your new connection, get fancy numbers or port your number sitting at your home.
Here is how 10digi.com has eased down the process of buying SIM and getting your favourite number.
A. New connection from top service providers.
10digi gives you an option to choose from the top service providers. You can choose from:
Prepaid Connections:
b) Vodafone Prepaid Connection
Postpaid Connections:
b) Vodafone Postpaid Connection
Also, you can pick your first recharge plans or monthly rental from options available for all service providers. It allows you to compare different plans and monthly benefits from various options. 10digi provides a transparent description of all the plans and benefits unlike the retailers who favour particular connections based on profits.
B. Choose your number from lakhs of options
How many options of numbers do we get when we buy a new connection from the retailer?
May be 5 or max 10.
But is that good enough?
Mobile number is something that we are going to keep for a very long time. All of us would definitely want a good mobile number. So there is no way that we should be satisfied with just 5-10 options.
Now you can choose from lakhs of numbers, all at one place. Get a VIP mobile number or choose your fancy number easily at 10digi.com.
Thinking which number to buy for your new connection?
Here are a few ways to make your mobile number more special:
Choose a number based on your birthday/ anniversary
Choose a number based on your loved one's special day
Choose a number that has your lucky number
Choose a number that signifies the religion you follow
Choose a VIP number that suits your premium personality
Get matching numbers for you and your loved ones
Choose easy to remember numbers for your business
Get numbers matching your previous phone number or your car/bike number
What are you waiting for?
Why live with that ordinary mobile number when you can get your favourite fancy mobile numbers delivered at your location.
Choose of lakhs of prepaid/ postpaid numbers from the top service providers like Airtel/ Vodafone/ Idea.
C. Port number siting at home
A lot of us believe that porting is a lengthy process and continue to live with that bad network just to avoid the porting stress.
Here is a surprise for you!
You can place a porting request in just 2 minutes, sitting at your home.
At 10digi.com, you can place your porting request and select a network and plan that you wish to port to. The delivery executive will come to your location to deliver you ported SIM and to help you complete the porting process.
So if you are facing problems in your network, you can conveniently port to airtel or port to vodafone at 10digi.com.
Here are the simple steps to follow to get your number ported with 10digi:
Select a network and plan that you wish to port to.
Fill in your delivery details and delivery time slot.
Provide the porting code to MR and get the porting process completed.
That's all that you have to do and your new SIM will be activated within 7-10 working days.
Need a new SIM? Log on to 10digi.com and get free home delivery, instant activation, premium customer support and enjoy the ease of ordering SIM at home.