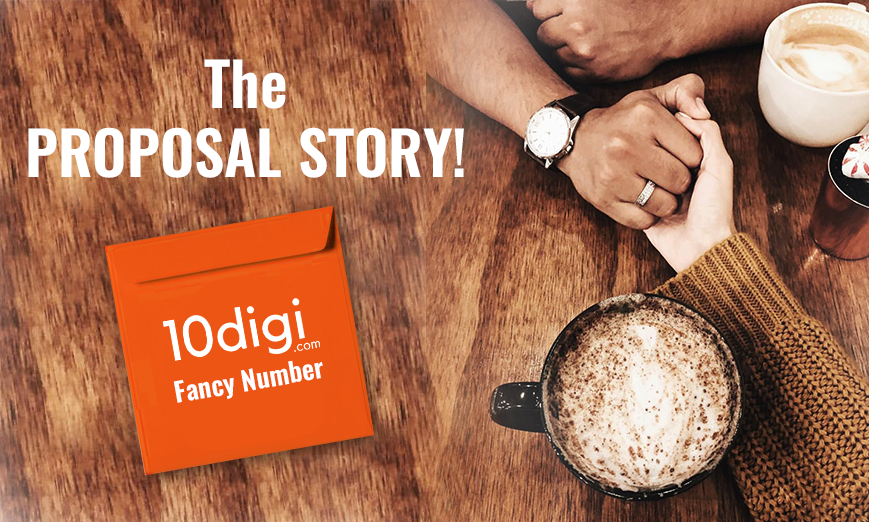 It is just unbelievable how numbers can relate to our life in such beautiful ways. All our special days like birthdays and anniversaries are associated with numbers/dates. Also, let's not forget the sun-sign numbers or the lucky numbers that we all secretly follow.
There are just so many ways in which numbers can bring a smile to our face.
When there is so much special around us for numbers, then why keep ordinary mobile numbers.
Mobile are crucial part of our existence these days, and so should be mobile numbers. Ever wondered why we get only 4-5 numbers to choose from when we buy a new SIM? Not fair!
Now you can choose your number from lakhs of options and pick a fancy/ VIP mobile number of your choice, just like Rajan did for his absolutely-amazingly-unique proposal story.
At 10digi.com, we don't just let you choose your mobile numbers but we create beautiful memories with our clients.
Here is one of the beautiful stories that we happen to be a part of and we are very proud that we could help them celebrate this happiness.
We got a fancy number order early in the morning along with a request to deliver it as quickly as we could. Keeping our promise, one of our delivery executive reached the location within 2 hours.
The order was from a college campus. After quite some struggle the delivery boy managed to reach Rajan, who had placed order for airtel fancy number.
The delivery representative asked Rajan to give his details so that he could help him activate his airtel fancy number but Rajan did not do it.
Interestingly, Rajan took the delivery boy to a coffee shop and treated him with good coffee and many funny stories.
The delivery representative asked Rajan again to accept the fancy number and let him complete the formalities as he had many more orders to be delivered. But Rajan requested him to wait for some more time as he was waiting for a friend.
After 10 minutes, Rajan's friend Surabhi came to the coffee shop. Surabhi did not know about the fancy mobile number that Rajan had ordered.
She came and asked Rajan: Hey Rajan! What's the matter? Why did you call me so early in the morning?
Rajan then said: I wanted to give you something special. After thinking for about 1 month, I have finally got a perfect gift for you.
Surabhi was surprised: Gift? But why? It's not my birthday. And what is it that you have got.
Rajan explained: I have ordered a new mobile number for you. See. It's the day that we meet for the first time. I wanted to keep this special day saved with us always.
Surabhi was in tears. She smiled with joy and hugged Rajan.
It was the first time that we saw somebody proposing with a fancy number and not with flowers or diamond rings.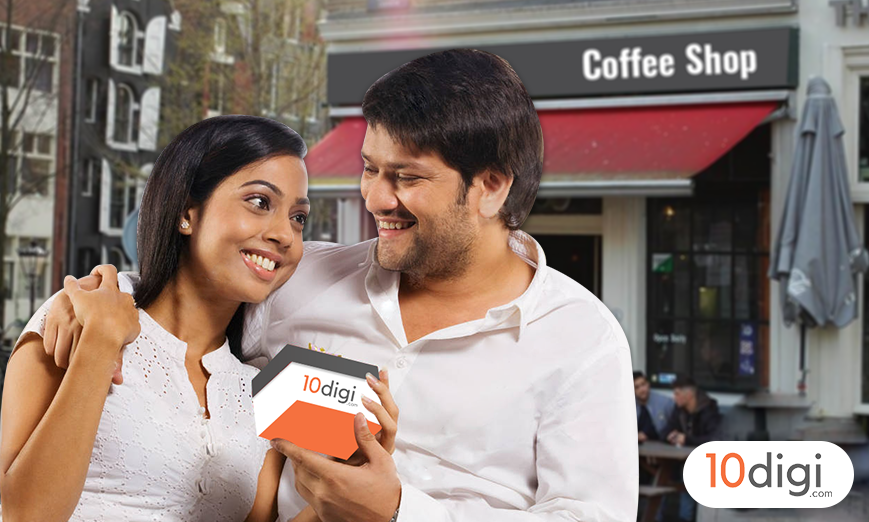 The delivery executive clicked pictures of this amazingly creative and unique proposal and then helped Surabhi in completing the activation process.
And it does not end here. 10digi team and the delivery executive were also invited to attend wedding of this beautiful couple in Delhi.
Like this, there are so many more ways in which mobile numbers are emotionally connected to people.
Does your mobile number say something special about you?
No?
Then get a special number that reminds you of your special days or get your lucky numbers on your mobile number.
Your mobile number is something that you carry throughout the day. Why settle for ordinary when you can get a number of your choice instantly.
To order your fancy mobile number, log on to 10digi.com and start exploring. Choose your number from lakhs of options and get it delivered at your location.