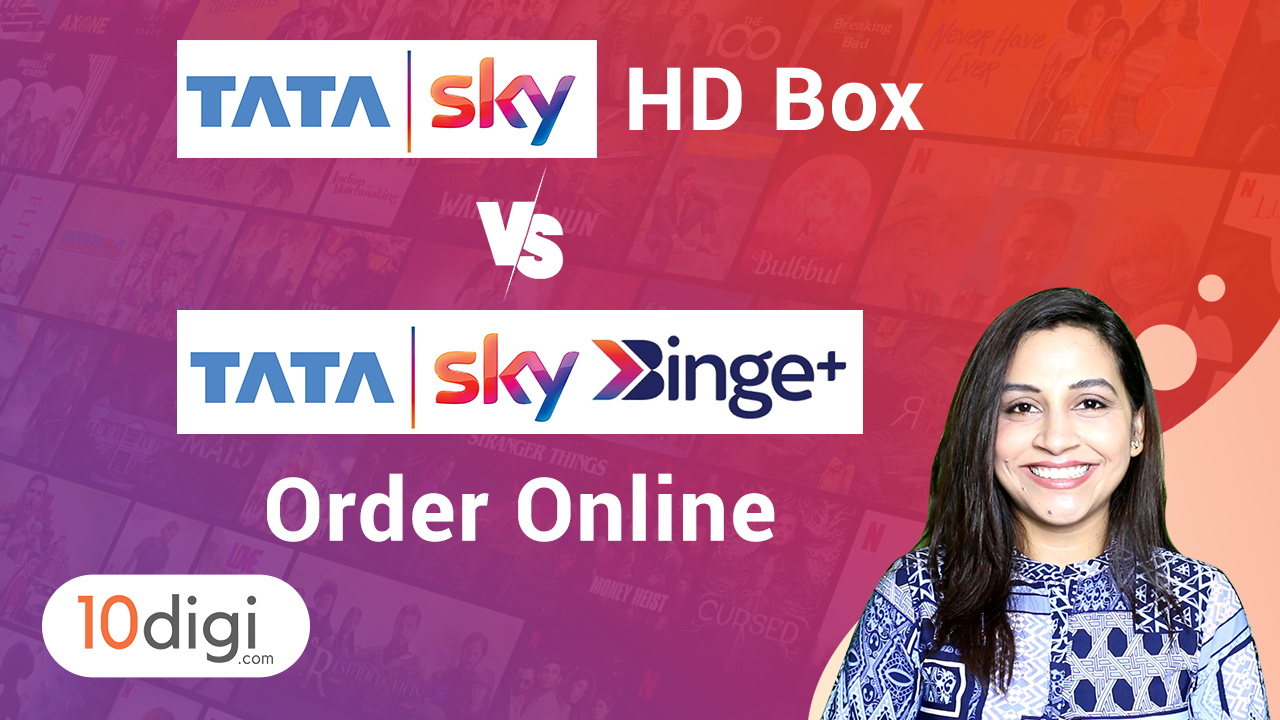 DTH service brought a revolution in cable TV network. It gave people a wide approach and area wise reach for viewing cable TV. Even in villages people have access to DTH services. Tata sky is one of the oldest DTH services in India, launched in 2006. Followed by the launch of competitor brands like Airtel, Videocon, Dish TV and more.
Tata sky has been launching set top boxes and HD services with constant improving experience. With the current situation, you should avoid stepping out of your house until it's really important. Now you can order Tata sky set top box or Binge+ device online, while sitting at the comfort of your home.
As it is the need of the hour to move online, Tata sky services are now available on 10digi.com and with full flow.
Let's know about some details from the Tata sky's product list.
Tata sky HD set top box
Tata sky HD set top box offers great picture quality, vivid colors, sharp images and awesome surround sound which will change your TV viewing experience completely. Aspect ratio is 16:9 and 1080i resolution which gives you ultimate viewing experience.
Tata Sky HD DTH service offers a wide range of popular high definition channels. If you have a HD set top box you can access shows on normal TV and HD TV both. For specifically watching HD shows and channels you need a HD TV and separate subscription for HD channels.
Tata Sky customer support is available 24×7. There are many interest based channels like cooking, live darshan, cartoon based games and learning, fitness workouts, you can also watch the latest blockbusters on Tata Sky 'pay per view' service called Showcase.
You can choose to buy your Tata Sky HD box from 10digi.com. Go to 10digi.com and explore.
Tata Sky Binge +
Tata Sky Binge+ is a set top box that allows subscribers to watch both live TV and OTT content (when connected to the internet) on one device, without switching between multiple HDMI ports. This offering provides the best of both worlds on one set top box.
OTT content that the user can watch on this Set Top Box includes VOD, 7 days catchup shows from Tata Sky and content from Apps like Shemaroo, Eros now, Disney+ Hotstar premium, Sun NXT and Hungama play.
You get Bluetooth connectivity for connecting speakers, 4K video quality andvoice search remote powered by Google Assistant. So basically, its TV channels + Entertainment apps with the ease of just one remote.
Get your Tata Sky Binge + set top box @ Rs 3597 only from 10digi.com. Order now.
You get benefits worth Rs 1887 with Binge+ when you order from 10digi.com.
Rs. 1500- 6 months Binge subscription
Rs. 387- Amazon Prime Subscription
Once you consume your free benefits you can get access to binge subscription at a monthly charge of Rs 249.
Tata Sky is a trusted name when we talk about DTH services. With excellent customer support services that works 24-7, they are always there to help you. You only pay for what you watch. After new cable TV rules 2019 were announced by TRAI, customershave to pay a network capacity fee which is Rs 130 + 18%GST = Rs153 which will include all free to air channels.
How to order from 10digi.com?
Go to 10digi.com
Click on the Tata Sky HD set top box or Tata Sky Binge + banner that you see on the first page.
You will be directed to the order page.
Choose your product
Choose a pack that you want
And place your order.
So, it's a good deal! Order your set top box now to give your family a better TV viewing experience. Visit 10digi.com and explore all the new additions.