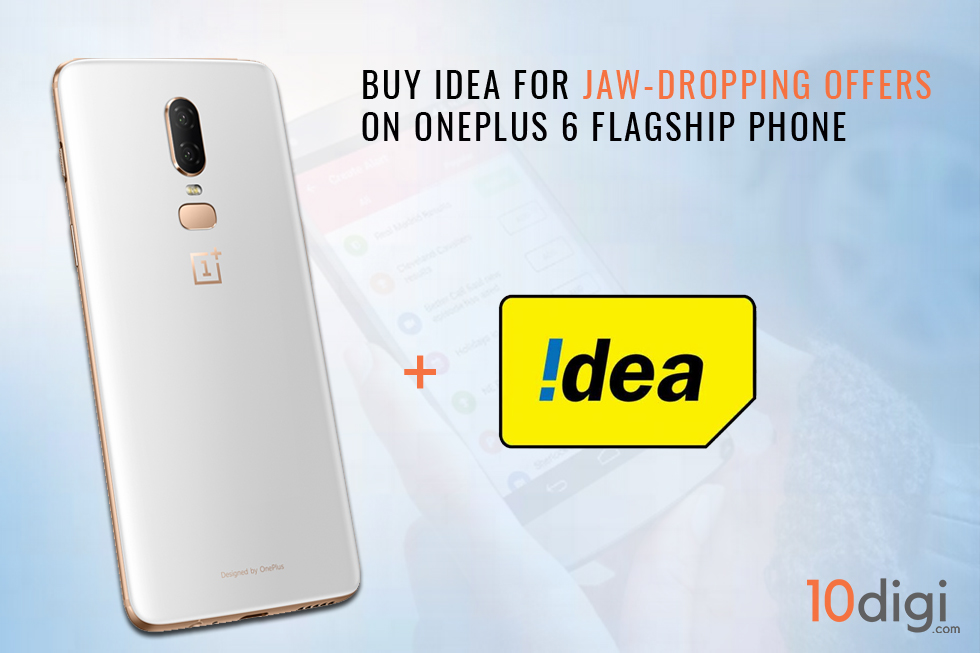 Almost every tech-lover is craving for the latest OnePlus 6 smartphone. This phone has created a name in the market for its fabolous features and stunning looks. I am pretty sure that at least once you must have also thought of buying this beauty for yourself or your loved ones.
Well, Idea makes it easy to buy this flagship phone at the BEST price. OnePlus' partnership with Idea cellular has brought many benefits for users who are willing to upgrade their mobile phones to one of its most amazing launch of OnePlus 6.
Here is the list of the exclusive benefits that you can get if you are a Idea subscriber.
What do you get?
Having a Idea Postpaid new connection can get you a cashback of Rs. 2,000 when you buy OnePlus 6 smartphone. This cashback can be availed when user recharges with the Nirvana 499 plan in the form of a Rs. 100 discount for 20 billing cycles.
Also, Idea users can get a benefit of about 10GB free data per month. Thus, in offer period of 20 billing cycle, the free data totals to 200GB. Isn't it just fabulous. Ultimate value for money.
Not only the monthly rental is reduced to just Rs. 399 but the Idea postpaid users also get extra data each month.
About Nirvana Plan
Talking more about Idea's top selling Nirvana Plan, the Nirvana 499 plan has no per day limit on the usage of data. With 40GB data benefits, this plan allows a rollover benefit of up to 200GB per month.
How can we miss out on the unlimited spree! Unlimited local calls! Unlimited STD calls AND Unlimited national roaming! Wohooo!!
Oh my my! There is more. You get added Idea services FOR FREE!! Enjoy Music, movies, games and a lot more.
ALSO! This plan also has the power to secure your phone for 4 months.
What about Idea prepaid?
There is another mind blowing offer for users with Idea prepaid new connection. Idea subscribers who buy OnePlus 6 can get added data of up to 370GB with just a simple recharge.
Here are the details of this Super-duper-saver pack. With a quick recharge of just Rs. 199 per month, Idea prepaid users can get 1.1GB extra every day. The recharge is valid for 28 days and can be availed for 12 continuous recharge cycles.
This is in addition to the current 1.4GB daily data pack that Idea prepaid users get. To sum up, a Rs. 199 plan can give the benefits of 2.5GB data connection and unlimited talktime for OnePlus 6 buyers.
Want more?
There are many more discounts and cashbacks when you buy your OnePlus 6 using SBI credit and debit cards. Enjoy handset protection, Amazon gift cards and benefits up to Rs. 25,000 on flight and hotel bookings.
To get the latest OnePlus 6 smartphone with Idea benefits, book your Idea New SIM connection now. Get Idea postpaid and Idea prepaid HOT DEALS at 10digi.com. You can also port number to idea to avail this offer.
Wait!.. There is even more here. GET FREE HOME DELIVERY when you order your SIM online.
Log on to 10digi.com NOW.