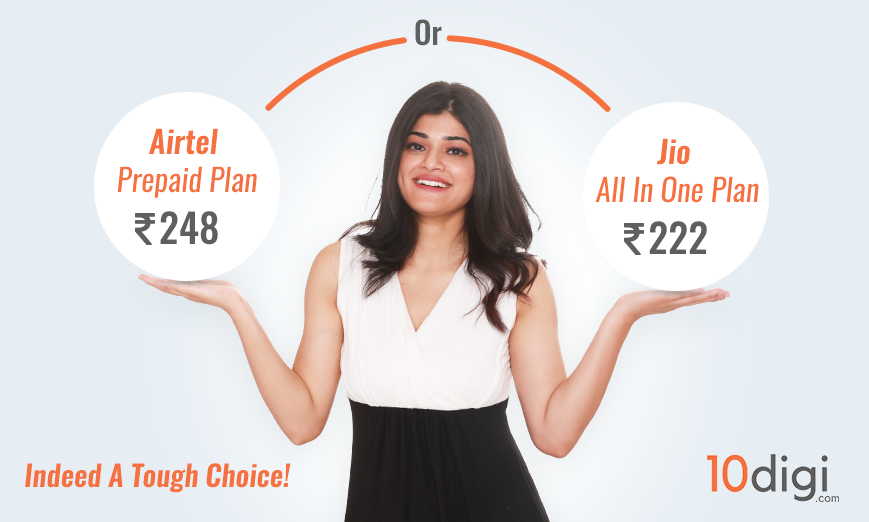 When buying a new network, one of the most difficult decisions is to choose an operator and then a plan.
Here we have compared two of the most popular plans for you and have made the decision a little easier.
With time, Bharti Airtel and Reliance Jio have become competitive for their prepaid plans. Both the telecom operators are providing similar benefits at competitive prices. The plans under Rs. 200 and Rs. 500 and high validity plans comes with almost the same benefits for both Airtel and Jio Prepaid Plans.
Although there is a difference recently added of IUC recharge that Jio has added. The company is charging 6 paise per minute from its subscribers for all outgoing calls made to different operators.
But the ALL IN ONE- Rs. 222 plan from Jio Prepaid is still competitive to Airtel Prepaid Plans Rs 248.
So now the question arises, which plan should you opt for?
Here is a quick comparison of Jio ALL IN ONE- Rs. 222 plan and Airtel Prepaid Plan- Rs. 248.
Have a look!
Reliance Jio Rs 222 Prepaid Plan Benefits
So, firstly we will take a look at the Rs 222 prepaid plan by Reliance Jio. The star plan from Jio offers 2GB 4G data per day along with unlimited calling from Jio to Jio connection.
Also, 1000 minutes of free calling from Jio to other mobile connections. And 6 paise per minute after completion of 1000 minutes, which will surely not add up much to the total cost.
No, it's not just that!
You also get 100 SMS per day and Jio Prime benefits with Jio Prime Subscription of Rs. 99.
The validity of the above plan is 28 days which may appear a little less but it is competitive to the market rates.
Bharti Airtel Rs 248 Prepaid Plan Benefits
As compared to the above plan, Bharti Airtel Rs 248 prepaid plan is slightly different if not absolutely distinct.
This plan offers 1.4 GB data 4G data per day to the subscribers which is a little less than Jio 222 plan.
The calling is free for all the operators which makes this plan win an edge over Jio 222 plan.
This plan also comes with a validity of 28 days anves benefits like Airtel XStream App, Wynk Music and Mobile Security to the customers.
How Do The Two Plans Compare?
Ok, So now we come to the comparison of these two plans. It is visible that when it comes to total data benefit and a higher daily limit data, the Reliance Jio Rs. 222 prepaid plan actually wins over Bharti Airtel Rs. 248 prepaid plan, even though the former is cheaper.
But then Airtel allows you to make unlimited calls to any network without any extra cost. Both the operators offer added advantages to the customers like App subscriptions, device security and much more.
To pick your network, choose the network that works the best in your location.
For knowing more about your network speed you can try speed tests and other such sources.
To get your Jio Prepaid SIM/ Airtel Prepaid SIM or to port to Jio/ port to Airtel, simply log on to 10digi.com and order your SIM online.
Get FREE delivery in just 60 mins. Order your SIM now @10digi.com.