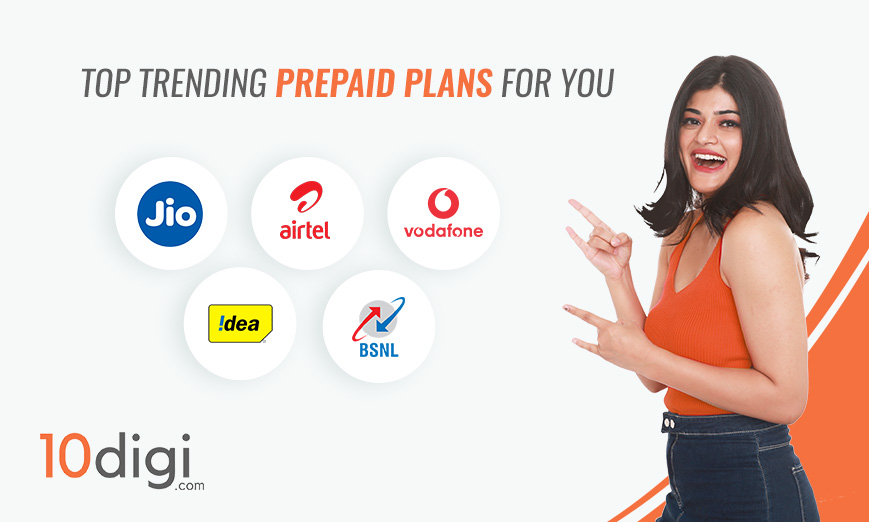 We all have our preferences for our mobile connection. While a few of us are die heart fans of postpaid connections, there are still some who think prepaid connections are better.
Well, that's entirely an individual's choice. But in case you are not happy with your current mobile connection, here is what you choose for your new prepaid connection.
The plans listed below are amongst the most popular plans trending in the market. Do have a look and pick your favourite operator.
We have listed the plans operator wise so that you can conveniently pick your new prepaid connection and get it activated instantly with 10digi.com.
Here are your plans:
Top Prepaid Plans From Jio

Jio is known to get the best of deals and offers for its customers. Here is one more time that Jio has got surprising benefits for the user.
Plan #1. Jio FRC 199 Plan
One plan with many benefits. It gives you a good amount of data, decent validity and calling benefits. With the Jio 199 plan, you get a daily usage of 1.5 GB data that lasts for 28 days. Also, it gives you 1000 mins of free calling to any connection, after which you will be charged 6 p/min for calls on network other than Jio. In case of calling on Jio numbers, you still get unlimited calling free. It's a value pack for those looking for data usage with decent validity.
Plan #2. Jio FRC 555 Plan
No more phone recharges every month. Buy a long validity plan like this and be sorted for 84 days, that's almost 3 months. Very cool deal, and the benefits are amazing!With the Jio 555 plan, you get 1.5 GB data for 84 days and unlimited calling to any Jio mobile number. In case of other connections, your calls are free till 3000 mins after which you will have to pay 6p/min for your calls to other connections.
Along with these benefits, there are a lot more extras that Jio offers through Jio Apps. You can access all those apps and enjoy free music, movie subscriptions, endless shows and what not!
Top Prepaid Plans From Airtel
Bharti Airtel is a name that brings trust to its users. It will not be wrong to say that Airtel has been serving and growing its customer base for decades. The brand is amongst the top telecom operators. Below we have listed just a few of Airtel's Prepaid Plans for you. You can also port to Airtel prepaid sitting and home and get any of the below or other plans listed at 10digi.com.
Plan #3. Airtel FRC 297 Plan
A top pick of Airtel's customers is its value pack of FRC 297. The plan is valid for 28 days and gives its users 1.5 GB data everyday. You can also enjoy truly unlimited calling benefits as calls to any connection is unlimited.
You can also enjoy Airtel's exclusive apps like xstream, wynk and Airtel secure
Plan #4. Airtel FRC 497 Plan
Long validity plan with high benefits. The Airtel 497 Plan is valid for 56 days and has benefits like 1.5 GB per day data for 56 days, free calling on any connection and much more. Get additional benefits like free SMS and subscriptions to Airtel Ap- x stream, wynk and Airtel secure with this pack as well.
Top Prepaid Plans From Vodafone/ Idea
Although the two have collaborated, you can still choose the connection that you like. Vodafone and Idea have the best plans listed at 10digi.com. You can buy a new connection or port to Idea/ Port to Vodafone simply at 10digi.com. Here are just a few of them:
Plan #5. Vodafone/ Idea FRC 297
You may select your operator, both Vodafone and Idea offer 28 days validity for this plan. You can use 1.5 data daily for 28 days along with unlimited calling to any mobile connection.
Plan # 6. Vodafone/ Idea FRC 647
The super value pack gives you bundles of benefits. You can opt for Vodafone/ Idea and get this plan for almost 3 months validity (84 days). Also, 1.5 GB daily data usage for 84 days. The calling is unlimited to any mobile connection. This pack is sure to be high on demand for its super long validity and high value offers.
Top Prepaid Plans From BSNL
Now your trusted BSNL/MTNL connection can reach you in just 2 hours. At 10digi.com, we have BSNL/MTNL prepaid connection with best plans. Have a look to a few of them:
Plan #7. BSNL/MTNL FRC 153
With a validity of 28 days, you get 1.5 GB data everyday with unlimited free calling on any connection.
Plan #8. BSNL/MTNL FRC 485
Again a value pack with high benefits. Get complete 90 days validity and 1.5 GB data everyday with this super popular pack. Calling is free to any mobile connection.
To get any of the above plans or choose Mobile Number Portability/ MNP to any connection, simply log on to 10digi.com. It is the simplest way to get your new prepaid connection/ postpaid connection or even poty your number online.
Get these and many other plans delivered at your doorstep in just 2 hours without any delivery charge.
The process is extremely simple. Log on to 10digi.com, choose your operator and your plan and fill in your details. The SIM will be delivered to you in just 2 hours.
The activation and other process is also done smoothly with 10digi.com. Log on now and experience the best of service with 10digi.com.